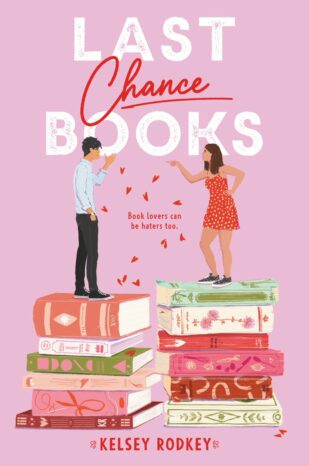 Last Chance Books
By Kelsey Rodkey Source
Received from the publisher
Published by
HarperTeen
on May 18, 2021
Received from the publisher in exchange for an honest review. This does not affect my opinion of the book or the content of my review.
Rating:

Don't you just love the smell of old books in the morning?

Madeline Moore does. Books & Moore, the musty bookstore her family has owned for generations, is where she feels most herself. Nothing is going to stop her from coming back after college to take over the store from her beloved aunt.

Nothing, that is—until a chain bookstore called Prologue opens across the street and threatens to shut them down.

Madeline sets out to demolish the competition, but Jasper, the guy who works over at Prologue, seems intent on ruining her life. Not only is he taking her customers, he has the unbelievable audacity to be… extremely cute.

But that doesn't matter. Jasper is the enemy and he will be destroyed. After all—all's fair in love and (book) wars.
This was cute and kind of funny at times, but I was soo annoyed by several of the characters way too frequently. I finished it, glad to see some growth and self-reflection , but it took such an annoying path to get there (for me) and I had thought about DNFing a few times. 
I think the humour was just a touch too snarky or sarcastic for my liking, but I know there are lots of readers out there who like the kind of snark and banter this story had. It just wasn't for me unfortunately.