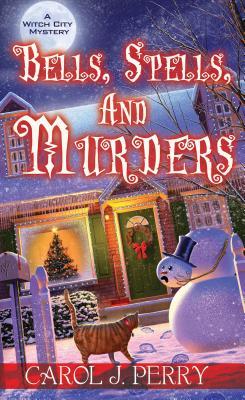 Bells, Spells, and Murders
By Carol J. Perry Series:
Witch City Mystery #7
Source
Received from the publisher
Published by
Kensington Publishing Corporation
on September 25, 2018
Received from the publisher in exchange for an honest review. This does not affect my opinion of the book or the content of my review.
Rating:

Lee Barrett has landed her dream job at Salem's WICH-TV. As the new field reporter, she'll be covering events live as they're unfolding. Next on her holiday checklist is an interview with the beloved chairman of a popular walking tour through Salem's historic districts. But it may be his ghost walking this snowy Noel season after Lee finds him murdered in his stately offices, bloody Santa hat askew.

With her police detective boyfriend working the case and a witch's brew of suspects--including some bell-ringing Santas--Lee chases down leads aided and abetted by her wise cat O'Ryan and some unsettling psychic visions of her own. When a revealing clue leads to another dead body, not even a monster blizzard can stop Lee from inching closer to the truth . . . and a scoop that could spell her own demise this killer Christmas.
So, I will have to let you in on a secret: I am a big scaredy cat. Huge. I am the person who can't watch PG-13 levels of scary movies because it'll keep me up all night. I want to blame this on my mom letting me watch "The Exorcist" too young, but that probably isn't the whole reason. I'm just a scaredy cat.
What does that have to do with this book? It explains why I started the series and then suddenly stopped.
Yes. A cozy mystery scared me too much.
So, I did start this series a long time ago. And it was great! The series is set in Salem, Massachusetts and follows Lee Barrett. Lee lives with her aunt in a large, old house and has moved home after the death of her husband. In the first book Lee gets a job at a TV station working as a psychic during the graveyard shift. Lee would dress up and do psychic readings with viewers in between showings of old scary movies. But sometimes during those readings she would get visions of murders that were happening. Lee and her aunt (and a dreamy detective) worked together to solve the crimes.
The first book was great! I really loved it and highly recommend it.
The second book had a ghost and I got scared and stopped reading the series entirely.
I am a big chicken.
So, I was hesitant to read Bells, Spells, and Murders not because I thought it would be a bad book, but because I was worried I would get too scared to finish it. Again.
I am happy to say I finished the book! And I really liked it and am now considering reading the rest of the series (just not the one with the ghost. That one is done).
In this book Lee is working as an investigative reporter for the same TV station where she once was a psychic. However as she is about to start an interview with a local charitable bigwig, she discovers him in his office, wearing a Santa hat, and dead. Lee has to unravel his charities, businesses, and relationships, in order to find out who wanted him murdered.
As much as I wish the whole series was just about Lee working as a psychic (I really liked her in that role) it was fun to see her work as a reporter. It gave her good reason to be at the murder scene, and she got some good inside scoops from her police detective boyfriend. Lee also got some help from her aunt, who works as a research librarian, and I liked how she also had her camerawoman by her side during much of the action.
Lee was given some clues along the way thanks to her visions and some hints from her cat, O'Ryan. But I was just as lost as Lee was until the end and the final reveal — it was a tough mystery to figure out.
I enjoyed this book quite a bit and it got me started into the Christmas spirit. This is a fun and very slightly spooky book that is good for anyone like me who wants a very, very little scare!