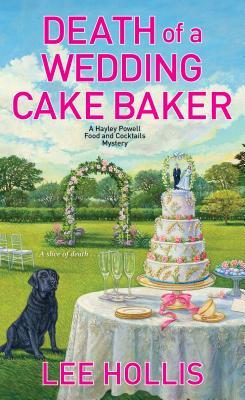 Death of a Wedding Cake Baker
By Lee Hollis Series:
Hayley Powell Food and Cocktails Mystery #11
Source
Received from the publisher
Published by
Kensington Publishing Corporation
on April 30, 2019
Received from the publisher in exchange for an honest review. This does not affect my opinion of the book or the content of my review.
Rating:

Liddy Crawford, best friend of food and cocktails columnist Hayley Powell, is getting married. The wedding is the talk of the town in Bar Harbor, Maine, including snide gossip about the age gap between the bride and her groom, local lawyer Sonny Lipton. But the cruelty of the comments is nothing compared to the nasty wedding cake baker, Liddy's quarrelsome cousin Lisa.

So when the belligerent baker is found facedown in a three-tier cake, the victim of a poisoned slice, there are more suspects in town than names on the guest list. With Sonny getting cold feet, Liddy getting hot under the frilly collar of her wedding gown, and a killer possibly crashing the ceremony, Hayley vows to solve the crime before her best friend walks down the aisle . . .
I've reviewed books from the Hayley Powell Mysteries series before, and mentioned with the most recent book that I think they are going through a nice resurgence so I was very excited to discover that another book in the series is being released.

Hayley's best friend, Liddy Crawford, is getting married to her long-time love, lawyer Sonny Lipton. Despite their desire for a stress-free wedding planning experience, Liddy's mother pushes Liddy into getting her wedding cake made by her cousin and arch-nemesis Lisa. Liddy and Hayley discover Lisa's body when arriving for a cake-testing appointment, discovering that she was poisoned by her own cake! Hayley and Liddy must work to uncover who wanted Lisa dead while still putting the finishing touches on the wedding.

I liked the premise of this book — Sonny and Liddy have been together for a decent bit of time, and I liked reading about Liddy as a bit of a bridezilla. I also understood the stress of trying to plan a wedding (though thankfully I haven't had to experience what Hayley did of being assigned a terrible bridesmaids dress — anytime I have been a bridesmaid I was given a beautiful dress!)

Liddy's cousin, however, is awful. She berates Liddy's cake choices, and keeps trying to serve her cakes that she is allergic to. But, because she is family, Liddy's mother demands that she make the cake for the wedding. After Lisa's body is discovered, it appears that there is no shortage of suspects, given her prickly nature. However, Liddy quickly becomes suspect number one. Hayley works overtime in order to ensure that Liddy is not arrested before she has to walk down the aisle.

This book was great! I don't want to give away too much of the plot, but it was great to have so many twists and turns given that it is the 11th book in the series. The direction of the book was very unexpected, and it made it so hard for me to put the book down. And the ending! It ended on such a cliffhanger that now I will be counting down the days for the next book to be released!

I think the only thing that bothered me about this book is that I find Hayley's boyfriend to sometimes be written as an almost petulant child. And maybe that's part of it, since he and Hayley have always been a little antagonistic and it means their relationship is a little different, but it makes it hard for me to like them being together. I don't want Hayley to be with someone who pouts. But at the same time, Hayley just seems to bend over backwards to put anyone else's needs before her own (and her boyfriend's). If I was on a date and someone knocked on the door, I would not be inviting them in for multiple cups of coffee and dessert that I had made. I would talk with them and they would leave. I just got very irritated with how she doesn't understand that putting the needs of an acquaintance before her romantic dinner with her boyfriend isn't very cool. I know it was annoying that her boyfriend got upset and pouted about it, but she was pretty rude too. So, maybe they both need to work on being better to each other.

That's my rant about how women in cozy novels need to stop catering to everyone else under the guise of politeness.

Overall, it was a fun, exciting book that added some great plot details to a solid book series, even if it had one scene that drove me bonkers.