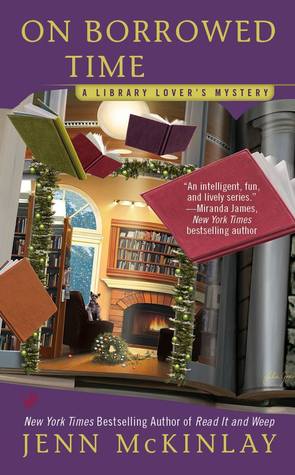 On Borrowed Time
By Jenn McKinlay Series:
Library Lover's Mystery #5
Source
Purchased
Published by
Berkley
on November 4, 2014
Rating:

Between preparing the library for the holidays and juggling the affections of ex-boyfriend, Captain Mike Sullivan, and her new crush, actor Robbie Vine, Lindsey has her hands full. But the mysterious disappearance of her world-traveling playboy brother takes precedence over all.

Afraid that involving the police could brew trouble for Jack, Lindsey takes matters into her own hands. But as her quest for her brother embroils her in a strange case involving South American business dealings and an enigmatic and exotic woman, it'll take the help of both her library book club—the crafternooners—and her eager-to-please suitors to keep Jack from ending up in hot water…
It's been a while since I have read anything from this series (honestly, it's been a while since I've read anything, but that's a whole other story!) and I was very happy to return.
Lindsey Norris continues her role as the director of the Briar Creek library, and is juggling the affections of two men. But, all of a sudden her world-travelling brother shows up! Lindsey lets her brother take a quick nap in one of the library offices, but when she checks up on him later, she discovers that not only is her brother gone, but a dead man has taken his place!!! Worried that her brother is mixed up with something bad (especially when he gets kidnapped in front of her), Lindsey must work on her own to try and find him!

I have really enjoyed this series so far, and this book was no exception. Trying to figure out what happened to Lindsey's brother, and the identity of the dead guy in her office, made for a pretty fun read. This was an interesting addition to the series, too, since Lindsey felt that she was really at odds with the local police force — she actively hid her brother's presence in any interaction she had with them. I'll admit that I was frustrated about this at first, but then realized that I would do the same if anything happened to my sisters (I think — I hope they don't call my bluff on this).

The book had a bit of a love story, which I've sad before that I'm not a big fan of, but the two romantic leads have a cute, friendly rivalry so that makes it much more enjoyable than the run-of-the-mill love triangle. I like when everyone gets along.

Overall this was a fun addition to the series. It wasn't the most exciting of storylines, but I still enjoyed reading it.