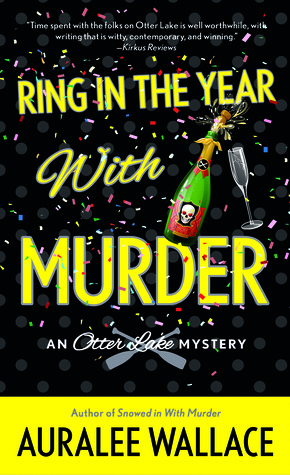 Ring In the Year with Murder
By Auralee Wallace Series:
An Otter Lake Mystery #4
Source
Purchased
Published by
St. Martin's Paperbacks
on October 31, 2017
Rating:

It's been a tough year for Erica Bloom. And with hours left on the clock and a killer crashing the party, it's not over yet…

This New Year's Eve, Erica's resolution is to have a great night―even if it kills her. She is, after all, at the party to end all parties: a Great Gatsby--themed gala sure to be the talk of Otter Lake, New Hampshire. With her perfectly finger-waved hair, borrowed pearls, and scarlet flapper dress, Erica is determined to be unflappable, despite the presence of her ex, Sheriff Grady Forrester, and his hot date, a bubbly blonde who has a hard time holding her drink. Literally. . .

In a plot twist as bizarre as a game of Clue, Grady's girlfriend almost drops dead after her drink is poisoned. Who put the killer ingredient in her appletini? Suddenly the tables have turned and the sheriff has become the prime suspect. Now Erica has until midnight to clear the man she still loves―and in so doing just maybe win him back. That's if the killer doesn't pop the cork again… and turn a New Year's smooch into a kiss of death…
Erica is determined to have a good time on New Years Eve before she begins what she calls the year of the adult. After a disastrous year of romance, she is facing spending an evening with with ex-boyfriend, his girlfriend Candace, and at a party hosted by a rich architect who seems to have eyes for Erica. However, it quickly becomes apparent that something is wrong when Erica's best friend's dog becomes sick after drinking from Candace's cup. Who wanted to poison Candace? Will everyone think it is Erica?
I think one point that was very unique and interesting to me in this book was that no one died. Usually, cozies have at least one death, and I was almost waiting for Grady's girlfriend Candace to pass away early on in this book but I am happy to say that she didn't — I'm really liking the development of her character so I'm happy to see her stick around.
I also love that Freddie got a dog in this book! Stanley! An adorable, elderly dog! Throughout the book Freddie refuses to admit that he likes the dog or will be keeping it, but of course he is won over by the dog and adopts him permanently.
I also enjoyed that this book really took place in one evening — all the potential murder and mayhem took place during the New Year's Eve party and that offered a bit of a unique timeline. The book also used a lot of flashbacks from the morning after a la the hangover and they were awesome. It was so fun to piece together why Freddie and Erica woke up in bed together and appeared to be incredibly hung over. I have to say that each of the books in this series seems to have different characteristics to it which means that they do not get stale or boring.
This book was a great addition to the series.