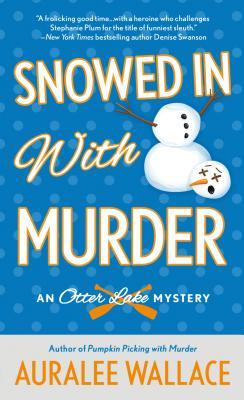 Snowed In with Murder
By Auralee Wallace Series:
An Otter Lake Mystery #3
Source
Purchased
Published by
St. Martin's Paperbacks
on February 7, 2017
Rating:

Erica has returned to Otter Lake, New Hampshire, to rekindle her romance with Sheriff Grady Forrester at her mom's island retreat, currently closed for the off season. Just ahead of a rapidly advancing storm front, Erica arrives to discover Mom has rented the lodge to a reality TV show. They're filming the wealthy but awful Boatright brood, who've been summoned here by their patriarch because—so he says—one of them wants to kill him.

SNOWED IN WITH MURDER

Great television, terrible timing. Not only are Erica's romantic hopes snuffed out like a candle flame, the nasty Nor'easter just became a superstorm…and no one is getting off the island 'til it blows over. When the power fails, it's lights out for the patriarch. Now, marooned with a murdered millionaire and his feuding family, it's up to Erica to take the killer by storm and get back to the business of reuniting with Grady—until death do they part!
Woah. This book was full of suspense.
Okay, I will say that I was disappointed when I first picked up this book. I realized pretty quickly that this was going to be a book that focused on a new cast of characters and would use the ones that I have come to know and love as part of a secondary storyline. However, that disappointment quickly faded when I got a few chapters in and realized how good this book was. It was a departure from the rest of the series in that it wasn't as funny, but was, as I said above, incredibly suspenseful and just as engrossing as the others.
Julia has returned from Chicago in order to try and repair her relationship with Grady, who recently dumped her. While she has planned on having a romantic weekend with him at her mothers' island home, she quickly discovers that her mom has rented the place out and is currently being used for filming a reality show. Even worse, the area is about to be hit with a violent Nor'Easter, so even if the home was available, Grady is not as he has to now work.
Stuck on an island in a violent storm with a cast of (many terrible) characters, Erica jumps into action when one of the renters suddenly dies. When it is discovered that he was likely murdered, she has to work to protect the youngest member of the group (who is likely to be targeted for the millions he will now inherit) from a Darkweb assassin. This task is not helped by members of the reality show getting lost in the snow, getting drunk, or crew members falling on ice and getting knocked out cold.
I must say that while I love winter storms, this book made me so happy that I don't have to experience them on an island with a broken generator. I found myself shivering from the descriptions of being stuck outside in that weather, even though it was August when I read it. The only downside to the book is that I found it a bit easier to figure out who the killer was due to some comments at the start of the book. But, at the same time, I don't mind because the journey was just so exciting.
I really was engrossed in this book and found it very hard to put down. Highly recommend for anyone who wants a somewhat cozy thriller.