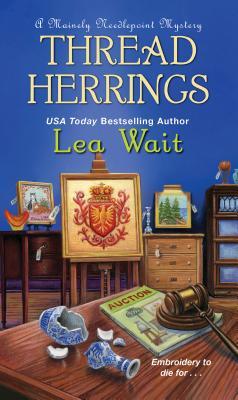 Thread Herrings
By Lea Wait Series:
Mainely Needlepoint #7
Source
Received from the publisher
Published by
Kensington Publishing Corporation
on October 30, 2018
Received from the publisher in exchange for an honest review. This does not affect my opinion of the book or the content of my review.
Rating:

Tagging along to an estate sale with her fellow Needlepointer, antiques shop owner Sarah Byrne, Angie Curtis impulsively bids on a tattered embroidery of a coat of arms. When she gets her prize back home to Haven Harbor, she discovers a document from 1757 behind the framed needlework--a claim for a child from a foundling hospital. Intrigued, Angie is determined to find the common thread between the child and the coat of arms.

Accepting her reporter friend Clem Walker's invitation to talk about her find on the local TV news, Angie makes an appeal to anyone who might have information. Instead, both women receive death threats. When Clem is found shot to death in a parking lot, Angie fears her own life may be in jeopardy. She has to unravel this historical mystery--or she may be the next one going, going . . . gone . . .
This book is part of the "Mainely Needlepoint" series, which follows Angie and her friends and family who work as part of her needlepoint business in Haven Harbour. Many of the other needlepointers have other full-time jobs, like Sarah, who has her own antique store. Angie accompanies Sarah to her first auction, where she buys a tattered coat-of-arms, which was seen as worthless by many of the other attendees. However, after taking the embroidery out of the frame, she discovers a claim for a child from a foundling hospital. Angie teams up with her reporter friend, Clem, in order to ask the public for any information on the child or coat-of-arms. But, after Angie receives threats against her life, and Clem is found murdered in her car, Angie knows she needs to unmask the killer before she becomes his next victim!
I was really looking forward to reading this book. I am a big fan of the Mainely Needlepoint series and have enjoyed other books by Lea Wait. I loved the auction aspect of this book — it was so interesting to learn about the process behind preparing for an auction, researching the items, and then participating in the event. I also love the mystery surrounding the claim ticket — what an interesting mystery! And who doesn't love hidden treasure, even if it's a document rather than gold? It was great to learn more about the history of foundling hospitals (though I was already familiar with the concept) and I thought it set a really interesting historical mystery/story.
I think the only downside to the book is that the killer wasn't very challenging to pick out. There really ended up being one suspect and then that was it. But, uncovering the why was more interesting.
I enjoyed this book and thought the mystery was so interesting. I didn't think this book really did much to progress any relationships between characters, but I did enjoy how Lea Wait used the historical case of foundling hospitals in this book.