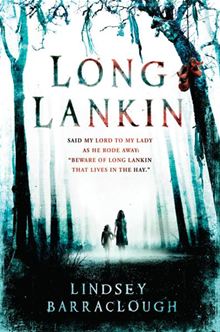 Long Lankin
By Lindsey Barraclough Source
Purchased
Published by
Bodley Head
on April 7, 2011
Rating:

Beware of Long Lankin, that lives in the moss. . . .When Cora and her younger sister, Mimi, are sent to stay with their elderly aunt in the isolated village of Byers Guerdon, they receive a less than warm welcome. Auntie Ida is eccentric and rigid, and the girls are desperate to go back to London. But what they don't know is that their aunt's life was devastated the last time two young sisters were at Guerdon Hall, and she is determined to protect her nieces from an evil that has lain hidden for years. Along with Roger and Peter, two village boys, Cora must uncover the horrifying truth that has held Bryers Guerdon in its dark grip for centuries -- before it's too late for little Mimi. Riveting and intensely atmospheric, this stunning debut will hold readers in its spell long after the last page is turned.
I read Kelly's review of this at Stacked and immediately wanted to get into this book!
If you're looking for a spooky, atmospheric read, this is most definitely it!
In 1958, Cora and her younger sister, Mimi, are sent to their Aunt Ida's home in a tiny village, where they make friends with Roger and his brother Peter. They also learn that Aunt Ida has a lot of rules: windows must always stay closed; they must only use the back door; and many rooms of the large home are off limits. Their Aunt Ida is not very welcoming, and does not hide that she doesn't want the girls staying there.
Soon, Cora, Mimi, Roger, and Peter begin to see and hear things they can't properly explain, and that Aunt Ida won't explain.  Looking for explanations, the children turn to others in the village and search for the truth behind all of the secrets of Byers Guerdon.
The third-person narrative alternates between Cora, Aunt Ida, and Roger, and it's very effective because the reader picks up on hints sprinkled throughout the story, but for the most part, the reader is just along for the ride while Cora and Roger figure things out. I liked the way they would get close to something, and then some sort of interruption would pull them away. It's like the author was teasing the reader, building the suspense and pacing up, only to stop and turn the attention somewhere else. I thought this was very effective, because it only made me want to read more.
The suspense and tension of the story build right up until the end, and trust me when I say that this book is spooky! There isn't really horror and gore, but this book is unsettling at times, in the ways that a proper scary story should be. Given the time and the setting, and the fact that Aunt Ida does not yet have a telephone, there is also a feeling of isolation woven into the story, which I think makes scary stories scarier!
There are a number of secondary characters in this book, and I liked reading about life in the village, mostly in Roger's narration. Some of the villagers provide the children with answers to some of the mysteries they're investigating, while others provide some nice background and character building. I definitely liked the characters of Roger, Peter, Cora, and Mimi, and even grew to like Aunt Ida as I learned more about her.
I suggest you go read Kelly's review, because it says many of the things I want to say about this book, such as appreciating that the author wasn't afraid to go where she went with this story. She could have taken the easy way out but instead went where I wanted the story to go, which was refreshingly unexpected.
I definitely recommend this one!