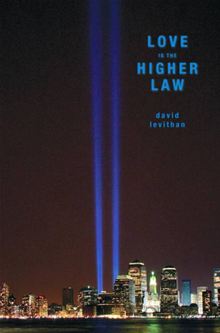 Love is the Higher Law
By David Levithan Source
Purchased
Published by
Knopf Books for Young Readers
on August 25, 2009
Rating:

The lives of three teens—Claire, Jasper, and Peter—are altered forever on September 11, 2001. Claire, a high school junior, has to get to her younger brother in his classroom. Jasper, a college sophomore from Brooklyn, wakes to his parents' frantic calls from Korea, wondering if he's okay. Peter, a classmate of Claire's, has to make his way back to school as everything happens around him.

Here are three teens whose intertwining lives are reshaped by this catastrophic event. As each gets to know the other, their moments become wound around each other's in a way that leads to new understandings, new friendships, and new levels of awareness for the world around them and the people close by.

David Levithan has written a novel of loss and grief, but also one of hope and redemption as his characters slowly learn to move forward in their lives, despite being changed forever.
I have a lot of David Levithan's books on my TBR list, and this is the first book of his that I've read. It was a quick read, but I really liked it. The story follows three teenagers as they experience the events of September 11, 2001, and its impact on their lives.
The chapters alternate between each character's point of view, so the first-person narrative is always changing. Sometimes this happens in the middle of a conversation between two of the characters, which I liked, because the characters think and feel a lot more than they say in this book.
Each of these characters experience the events of 9/11 differently – Jasper sleeps through it and wakes to its aftermath; Claire has to walk her brother home, wondering where their mother is; and Peter is waiting to buy a CD and hears the news from a Tower Records employee. I liked reading about their different reactions – Claire wanted to do something, and found herself looking for the good in the middle of all of the bad; Jasper withdrew; and Peter tried to lose himself in music.
There were moments in the story that I found genuinely moving, and although I witnessed the events of that day on television, I can't imagine what it must have been like to have been in New York while it was all happening (the author was, and has said that he's included some real-life moments in this book).
Really, though, this book is about what happens to our main characters in the aftermath. The story begins on September 11, and we see how their lives are changed. I thought it was a very well-written novel. It's not what I would call a fun read, but despite the tragedy around them, Claire, Jasper and Peter find moments of joy and hope in their lives, and as they move forward in the days and years after the attacks, they also find that in each other.