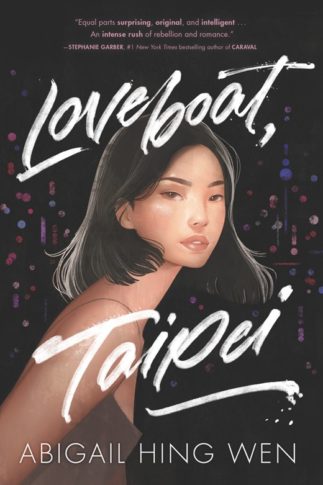 Loveboat, Taipei
By Abigail Hing Wen Series:
Loveboat Taipei #1
Source
Received from the publisher
Published by
HarperTeen
on January 7, 2020
Received from the publisher in exchange for an honest review. This does not affect my opinion of the book or the content of my review.
Rating:

When eighteen-year-old Ever Wong's parents send her from Ohio to Taiwan to study Mandarin for the summer, she finds herself thrust among the very over-achieving kids her parents have always wanted her to be, including Rick Woo, the Yale-bound prodigy profiled in the Chinese newspapers since they were nine—and her parents' yardstick for her never-measuring-up life.

Unbeknownst to her parents, however, the program is actually an infamous teen meet-market nicknamed Loveboat, where the kids are more into clubbing than calligraphy and drinking snake-blood sake than touring sacred shrines.

Free for the first time, Ever sets out to break all her parents' uber-strict rules—but how far can she go before she breaks her own heart?
This was one of the 2020 releases that I was most excited to read. That cover is beautiful, and the synopsis grabbed me.
I loved this book! I just couldn't put it down once I started reading. I loved Ever's story, reading about her summer of rebellion and romance, coming out of her shell away from home. Ever's sometimes conflicting desires to please her parents and be true to herself were really well-depicted, and relatable.
I also totally loved the romance, and at times found myself a little torn between the two guys who caught her eye. I thought the love triangle was really well done, because I could totally see what drew Ever to each guy, and I was so invested in the outcome and what she would decide at the end of the summer.
I really enjoyed this book and apparently there will be a sequel, which I will absolutely be picking up! I definitely recommend that you add this to your 2020 TBR and pick up a copy when it's available!