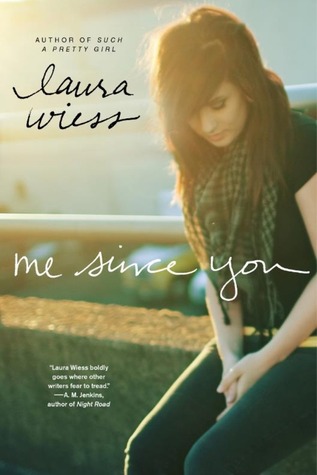 Me Since You
By Laura Wiess Source
Received from the publisher via Edelweiss
Published by
MTV Books
on February 18, 2014
Received from the publisher via Edelweiss in exchange for an honest review. This does not affect my opinion of the book or the content of my review.
Rating:

Cover image and summary from Goodreads:

Laura Wiess captures the visceral emotion of a girl's journey from innocence to devastating loss and, ultimately, to a strange and unexpected kind of understanding--in this beautiful and painfully honest new novel.

Are there any answers when someone you love makes a tragic choice?

Before and After. That's how Rowan Areno sees her life now. Before: she was a normal sixteen-year-old--a little too sheltered by her police officer father and her mother. After: everything she once believed has been destroyed in the wake of a shattering tragedy, and every day is there to be survived.

If she had known, on that Friday in March when she cut school, that a random stranger's shocking crime would have traumatic consequences, she never would have left campus. If the crime video never went viral, maybe she could have saved her mother, grandmother--and herself--from the endless replay of heartache and grief.

Finding a soul mate in Eli, a witness to the crime who is haunted by losses of his own, Rowan begins to see there is no simple, straightforward path to healing wounded hearts. Can she learn to trust, hope, and believe in happiness again?
This was a heavy book. I know, not a real surprise given the synopsis. But because I knew Rowan's father's suicide was coming, the first part of the book was really tense. I don't know if Rowan was oblivous to what her dad was going through, but at times she seemed insensitive. I don't think she understood the severity and depth of what her dad was experiencing. It's also difficult, especially as a teenager, to see parents as people outside of their role as a parent, and so Rowan was frustrated with her dad and confused and it all added up to a tense reading experience because I knew what was coming.
I liked Eli. The way he came into Rowan's life and that he may be able to understand what she was going through was interesting, although as Rowan learns, we all grieve differently. But her moments with Eli were able to provide some levity to a heavy book.
Nadia, Rowan's best friend, was a character who made me furious. Even before things turned bad for Rowan and her family, I didn't think Nadia was much of a friend. She frequently ditched Rowan and seemed pretty bossy, and then her behaviour in the wake of Rowan's father's death was so insulting and hurtful that it was almost unbelievable that a person could be that cruel and not realize it.
Overall, this was a well-written book and I appreciated the examination of mental health issues and liked many of the characters, but it lacked something that really pulled me in to the story and made me feel emotionally invested and connected. Perhaps it's just that I tend not to read a lot of contemporary YA and if you love that genre, this may be just the book for you!