By Kiersten White
Source: Purchased
My Rating: 3 / 5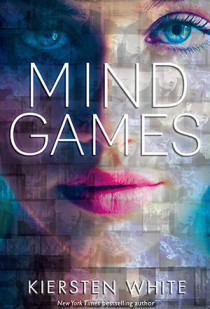 Isn't the cover for this one so cool? Here is the Goodreads summary:
Fia was born with flawless instincts. Her first impulse, her gut feeling, is always exactly right. Her sister, Annie, is blind to the world around her—except when her mind is gripped by strange visions of the future.

Trapped in a school that uses girls with extraordinary powers as tools for corporate espionage, Annie and Fia are forced to choose over and over between using their abilities in twisted, unthinkable ways…or risking each other's lives by refusing to obey.

In a stunning departure from her New York Times bestselling Paranormalcy trilogy, Kiersten White delivers a slick, edgy, heartstoppingly intense psychological thriller about two sisters determined to protect each other—no matter the cost.
I read this for my May book club meet up, but it has been on my TBR for a while. I was intrigued by a story of sisters with some kind of psychic abilities, and so I was really excited when it became a book club pick.
There were a lot of things I liked about this book, number one being the action! Fia is a totally kick-ass tough girl which I loved. Right near the start of the book, she takes out three men all on her own. It was pretty awesome. I also loved Fia's methods for dealing with the Readers: shouting swear words in her head, singing annoying songs, thinking terrible things about the Readers or about their loved ones…it was pretty funny.
Between the two girls, Fia was hands down my favourite. She was snarky, sarcastic, strong, and by comparison, Annie (or Blannie, as I thought of her) was such a downer. I felt for Annie, at least at first, but she was just the less interesting sister and I might have enjoyed the book more had it focused on telling its story from Fia's perspective.
The sister relationship was really interesting. They both loved and wanted to protect each other, but Annie and Fia were also keeping a lot of secrets and hiding things from each other. They both seemed to feel so guilty, and at times even seemed to resent each other somewhat. I wished they could have had a moment and been honest with each other but alas, it didn't quite happen that way.
At first, I did find that the way the story jumped around in time, and switched from Fia to Annie's third-person narration, was confusing, but as I read on I felt less confused. But be prepared to be confused a bit at the start!
Ultimately, I liked this book but I didn't love it. I was left wanting to know more: about the world; the school; what drove Keane, the man behind it all; and to know more about the two love interests, Adam (who was nice but a bit boring) and James (the dangerous bad boy, and Keane's son). I really wanted more background, more context, without which it was difficult for me to really get a sense of the danger the girls were in.
I really enjoyed the book club chat on this one! There were some interesting discussions about James and Fia, Adam, the world building (or lack thereof)…good times!
So while I didn't fall in love with this book, I'll definitely be reading the sequel. I recommend this for fans of the paranormal (although this is light on the paranormal element) and action, especially those looking for a quick read!