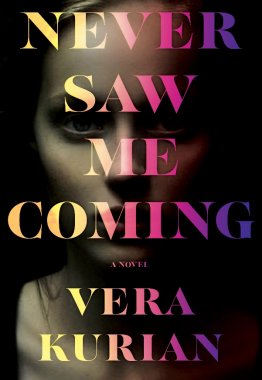 Never Saw Me Coming
By Vera Kurlan Source
Received from the publisher
Published by
Park Row
on September 7, 2021
Received from the publisher in exchange for an honest review. This does not affect my opinion of the book or the content of my review.
Rating:

Meet Chloe Sevre. She's a freshman honor student, a leggings-wearing hot girl next door, who also happens to be a psychopath. Her hobbies include yogalates, frat parties, and plotting to kill Will Bachman, a childhood friend who grievously wronged her.

Chloe is one of seven students at her DC-based college who are part of an unusual clinical study for psychopaths—students like herself who lack empathy and can't comprehend emotions like fear or guilt. The study, led by a renowned psychologist, requires them to wear smart watches that track their moods and movements.

When one of the students in the study is found murdered in the psychology building, a dangerous game of cat and mouse begins, and Chloe goes from hunter to prey. As she races to identify the killer and put her own plan into action, she'll be forced to decide if she can trust any of her fellow psychopaths—and everybody knows you should never trust a psychopath.

Never Saw Me Coming is a compulsive, voice-driven thriller by an exciting new voice in fiction, that will keep you pinned to the page and rooting for a would-be killer.
This was such a fun read! The premise really drew me in, and while it was a bit unbelievable at times, I enjoyed the premise and the mystery enough that I could let go of the little things that bugged me and just see where the story went.
There are a few main characters that we follow throughout the story, and I enjoyed each of their different perspectives, as well as their own internal struggles about whether they could trust each other to work together and figure out who was behind the murders, while suspecting each other at the same time.
If you're interested in psychological thrillers that delve into the 'psychological' part, check this one out! Once I started reading, I couldn't put it down!