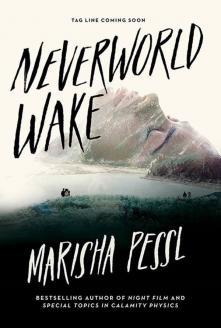 Neverworld Wake
By Marisha Pessl Source
Received from the publisher
Published by
Delacorte Press
on June 5, 2018
Received from the publisher in exchange for an honest review. This does not affect my opinion of the book or the content of my review.
Rating:

Cover image and synopsis from Goodreads:

Beatrice Hartley has no plans for the summer—except a secret reunion with her five former best friends.

Once upon a time, back at Darrow-Harker School, they were the cool kids, the beautiful ones. Then the shocking death of Jim—their creative genius—changed everything.

One year after graduation, Beatrice is returning to Wincroft—the seaside estate where they spent so many nights sharing secrets, crushes, plans to change the world—in the hopes that she will get to the bottom of the dark questions gnawing at her about Jim's death. She suspects that her friends knew much more than they ever let on.

But as the night plays out in a haze of stilted jokes and unfathomable silence, answers seem unlikely. Her friends are all so different now, so splintered and lost. It's too late. Beatrice senses she's going to live the rest of her life far away from them, never knowing what really happened.

Then night fades to morning. A thunderstorm rages, and a mysterious man knocks on the door. He looks like the exhausted ringmaster of a cheap traveling circus. Blithely, he announces the impossible.

And so begins the Neverworld Wake. The nightmare. The nothingness.
I loved Marisha Pessl's Night Film when I read it a few years ago, so when I Heard that she had a YA novel coming out, I knew I had to read it!
I'm not even sure how to describe this book, but I was really into it. I liked the concept, and I liked that the story was unpredictable.
I don't know what I can say about this book without giving much away about the plot. It was strange and had a mystery at its core, it was creepy at times, and it was just plain fun to read. Recommended!