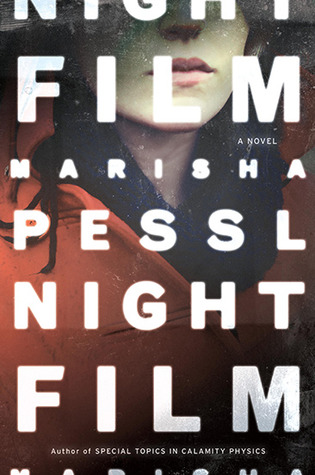 Night Film
By Marisha Pessl Source
Purchased
Published by
Random House
on August 20, 2013
Rating:

A page-turning thriller for readers of Stephen King, Gillian Flynn, and Stieg Larsson, Night Film tells the haunting story of a journalist who becomes obsessed with the mysterious death of a troubled prodigy—the daughter of an iconic, reclusive filmmaker.

On a damp October night, beautiful young Ashley Cordova is found dead in an abandoned warehouse in lower Manhattan. Though her death is ruled a suicide, veteran investigative journalist Scott McGrath suspects otherwise. As he probes the strange circumstances surrounding Ashley's life and death, McGrath comes face-to-face with the legacy of her father: the legendary, reclusive cult-horror-film director Stanislas Cordova—a man who hasn't been seen in public for more than thirty years.

For McGrath, another death connected to this seemingly cursed family dynasty seems more than just a coincidence. Though much has been written about Cordova's dark and unsettling films, very little is known about the man himself.

Driven by revenge, curiosity, and a need for the truth, McGrath, with the aid of two strangers, is drawn deeper and deeper into Cordova's eerie, hypnotic world.

The last time he got close to exposing the director, McGrath lost his marriage and his career. This time he might lose even more.

Night Film, the gorgeously written, spellbinding new novel by the dazzlingly inventive Marisha Pessl, will hold you in suspense until you turn the final page.
I wanted to read this book as soon as I heard about it! While on vacation in September, I passed a bookstore and couldn't resist picking this up (despite the steep cost of the hardcover, eep!). Despite its size (roughly 600 pages!), I was sucked into this book and finished it in just a few days.
You've probably heard about this book already. I had certainly heard about it well before it came out, and was reminded of Mark Z. Danielewski's House of Leaves. And like House of Leaves, I flew through this book despite its length.
From the moment I started reading, I couldn't put this book down. I was immediately drawn into Scott's investigation into Ashley and her death, which leads him back to her father, reclusive horror film director Stanislas Cordova. I loved reading about Cordova's twisted, terrifying films, and on more than one occasion found myself wanting to watch these fictional movies.
I loved the atmosphere – it was spooky, the story was twisty, and I never knew which characters I (or Scott) could trust. He ended up with two people helping him with the investigation, Hopper and Nora, who have their own reasons for helping him out. Together, the three of them formed a strange team, but one that I liked to read about. There was an interesting dynamic. Hopper and Nora were a bit mysterious themselves, and I enjoyed learning more about them as the book went on. None of the characters were perfect, but I thought they were likable and I quite enjoyed tagging along on their journey to unravel the mystery of Ashley Cordova's death.
I must say, though, for all the book/Cordova's talk of horror and fear, the book didn't quite 'go there' as much as I wanted. I was hoping for more horror, the kind that Cordova's films were supposed to hold, and while there was a lot of suspense and tension in this book, it was more of a psychological thriller than horror story. There were some truly great, frightening moments, such as View Spoiler » Scott's experiences at The Peak, but the possibility that he may have hallucinated those things disappointed me. I really liked those scenes, and felt like I was at last getting to what I was really hoping for – but it felt like a bit of a cop out to me that it may have been a hallucination brought on by the plants in the greenhouse from one of the film sets. « Hide Spoiler
Initially, I loved that Scott was skeptical throughout the novel, even as evidence seemed to be mounting that there were some very dark things taking place at The Peak, and that once he got there and saw things for himself, all of the dark rumours about Cordova might be true. The whole 'what is real, what isn't real' thing, the possibility that he might himself be in a Cordova movie, was terrifically twisted stuff. By the end, View Spoiler » I felt frustrated that so much of that stuff that I loved was not real. I think it goes, again, to my disappointment that the book didn't veer enough into horror for my taste, as well as the ambiguous ending. I wish that Pessl had definitively 'gone there', and I did feel like the reader was left to wonder, which is somewhat frustrating after reading nearly 600 pages. I would have appreciated more certainty. « Hide Spoiler
Once I finished, I had to admit to myself that the ending was a bit of a letdown. However, I find that I'm usually disappointed when reading mysteries of any kind, because I feel that the ending never really lives up to the excitement and possibilities created by the mystery, tension and suspense throughout the story.
That said, I really enjoyed this book as I read it. It had me on the edge of my seat, and was such a fun, aborbing read. It's also a book that I'd like to read again, which doesn't happen often. I definitely recommend this one. It's one of my favourite reads of 2013!