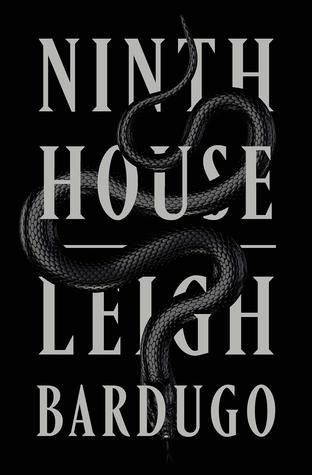 Ninth House
By Leigh Bardugo Series:
Alex Stern #1
Source
Purchased
Published by
Flatiron Books
on October 8, 2019
Rating:

Galaxy "Alex" Stern is the most unlikely member of Yale's freshman class. Raised in the Los Angeles hinterlands by a hippie mom, Alex dropped out of school early and into a world of shady drug dealer boyfriends, dead-end jobs, and much, much worse. By age twenty, in fact, she is the sole survivor of a horrific, unsolved multiple homicide. Some might say she's thrown her life away. But at her hospital bed, Alex is offered a second chance: to attend one of the world's most elite universities on a full ride. What's the catch, and why her?

Still searching for answers to this herself, Alex arrives in New Haven tasked by her mysterious benefactors with monitoring the activities of Yale's secret societies. These eight windowless "tombs" are well-known to be haunts of the future rich and powerful, from high-ranking politicos to Wall Street and Hollywood's biggest players. But their occult activities are revealed to be more sinister and more extraordinary than any paranoid imagination might conceive.
I was so excited to read this! I love Leigh Bardugo's books, so when I heard she had a dark, adult fiction book coming out in 2019, I knew I had to read it.
This book was really good! It was dark and absorbing, and as much as I didn't want to put it down, I was also sad when it was over, because now I have to wait for book two.
I was drawn into Alex's story right away. As she always does, Leigh Bardugo has written a clever, complex character with a difficult past, some great snarky wit, and the determination and will to move forward despite major obstacles.
Also as usual, there are some great supporting characters. I look forward to more of them book two. I feel like we barely scratched the surface of them here.
Between the various houses and their magic and rituals, and a sort-of subplot involving a ghost, and chapters moving back and forth in time, I did find it difficult at times to keep track of what was happening. But I had faith in Leigh Bardugo to bring it all together in the end, and I was rewarded. Highly recommended!