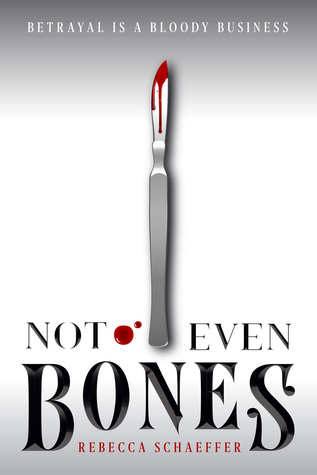 Not Even Bones
By Rebecca Schaeffer Series:
Market of Monsters #1
Source
Library
Published by
Houghton Mifflin Harcourt
on September 4, 2018
Rating:

Dexter meets This Savage Song in this dark fantasy about a girl who sells magical body parts on the black market — until she's betrayed.

Nita doesn't murder supernatural beings and sell their body parts on the internet—her mother does that. Nita just dissects the bodies after they've been "acquired." But when her mom brings home a live specimen, Nita decides she wants out — dissecting living people is a step too far.

But when she tries to save her mother's victim, she ends up sold on the black market in his place — because Nita herself is a supernatural being. Now Nita is on the other side of the bars, and there is no line she won't cross to escape and make sure no one can ever capture her again.

Nita did a good deed, and it cost her everything. Now she's going to do a lot of bad deeds to get it all back.
I was so excited to read this book. From the synopsis, it sounded so much like my kind of story! I like dark and violent stories, so when my library hold finally came in, I rushed out to pick it up.
Initially I really liked this book. The set up was very intriguing, and the first part of the story, explaining how Nita and her mother work and Nita trying to save the boy her mother had captured, was good.
But as the book went on, I felt like everything got very slow. I got frustrated that the majority of the book took place in one spot View Spoiler » like when Nita kept leaving the building she'd been held in, and then kept going back. It felt like most of the book was Nita going back and forth to that building. « Hide Spoiler and that just wasn't very interesting for me. I also had a difficult time with Nita. She felt like such a blank character to me most of the time and I struggled to have much of an interest in her. I was much more interested in characters like Kovit and Mirella. View Spoiler » I was also kind of disappointed with what happened to Mirella's character. I felt like Nita kept beating herself up for working with Kovit even though he had tortured Mirella, and for Nita's escape plan leading to Mirella's death, but when it turned out Mirella survived after all, it seemed to me that Mirella's survival let Nita absolve herself or brush those concerns aside. « Hide Spoiler

I liked so much of what this book wanted to do as far as telling stories about villains and monsters, and the graphic violence and dissection scenes were great. And I liked the concept of the world. But for me, this was a case of some interesting elements that did not add up to something I loved as a whole.
This is the first in the series, but I'm not sure if I'm interested enough in the worldbuilding to check out the sequel when it comes out.