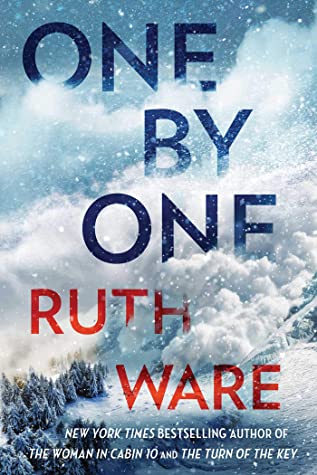 One By One
By Ruth Ware Source
Received from the publisher
Published by
Gallery/Scout Press
on September 8, 2020
Received from the publisher in exchange for an honest review. This does not affect my opinion of the book or the content of my review.
Rating:

Getting snowed in at a beautiful, rustic mountain chalet doesn't sound like the worst problem in the world, especially when there's a breathtaking vista, a cozy fire, and company to keep you warm. But what happens when that company is eight of your coworkers…and you can't trust any of them?

When an off-site company retreat meant to promote mindfulness and collaboration goes utterly wrong when an avalanche hits, the corporate food chain becomes irrelevant and survival trumps togetherness. Come Monday morning, how many members short will the team be?
This was a fun read once I got into it, but it definitely took me some time to get a sense of who the various characters were and what their relation to each other was.
Once the avalanche hit and the group's situation became more and more dire, things picked up for me. I love a good survival story, and when that's combined with a mystery in a remote setting, I am even more intrigued!
But the last few chapters became a slog for me, for spoilery reasons: View Spoiler » Because Liz and Erin ended up alone in the chalet at the end, and Liz was the villain, it became repetitive and kind of annoying to read several chapters told from each of their POV. « Hide Spoiler
This started out well for me but by the end I lost interest, unfortunately.