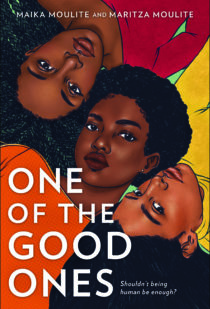 One Of The Good Ones
By Maika and Maritza Moulite Source
Received from the publisher
Published by
Inkyard Press
on January 5, 2021
Received from the publisher in exchange for an honest review. This does not affect my opinion of the book or the content of my review.
Rating:

The Hate U Give meets Get Out in this honest and powerful exploration of prejudice in the stunning novel from sister-writer duo Maika and Maritza Moulite, authors of Dear Haiti, Love Alaine.

ISN'T BEING HUMAN ENOUGH?

When teen social activist and history buff Kezi Smith is killed under mysterious circumstances after attending a social justice rally, her devastated sister Happi and their family are left reeling in the aftermath. As Kezi becomes another immortalized victim in the fight against police brutality, Happi begins to question the idealized way her sister is remembered. Perfect. Angelic.

One of the good ones.

Even as the phrase rings wrong in her mind—why are only certain people deemed worthy to be missed?—Happi and her sister Genny embark on a journey to honor Kezi in their own way, using an heirloom copy of The Negro Motorist Green Book as their guide. But there's a twist to Kezi's story that no one could've ever expected—one that will change everything all over again.
The synopsis says it's The Hate U Give meets Get Out and I tend to agree. This book was so good and I couldn't put it down. I wound up reading it in a single day.
I don't want to say too much for spoiler reasons, but the story took a turn I definitely did not see coming. This was a fantastic YA mystery that not only kept me reading to see how the story would end, but that addresses important issues of social justice and racism and injustice. In addition, it's a story about family and sisters, and I loved reading about the bonds as well as the tensions between Kezi, Happi, and Genny.
Recommended!