Ottawa Book Blogger Meet Up
On Sunday I went to the Ottawa Book Blogger Meet Up and I had a great time! It was a mix of bloggers I hadn't met and the bloggers I met at last year's meet up who've become friends.
We were joined by Ottawa author Caroline Pignat and received ARCs of her new book, Unspeakable, which she signed for us. It was really interesting to hear her talk about the research that went into the book (which is based on true events) and balancing the job of writing and editing with family and a day job.
We also got some awesome books in our goodie bags, along with some fun swag (buttons, tea, pens, sunglasses)! I'm excited to read everything that was in my goodie bag: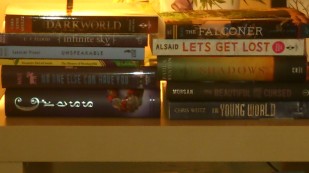 The Dark World by Cara Lynn Schultz
Infinite Sky by C.J. Flood
The Mystery of Meerkat Hill by Alexander McCall Smith (signed)
No One Else Can Have You by Kathleen Hale (signed)
Cress by Marissa Meyer (personalized and signed!)
Since You've Been Gone by Morgan Matson
The Falconer by Elizabeth May
Let's Get Lost by Adi Alsaid
Shadows by Paula Weston (signed)
The Beautiful and the Cursed by Page Morgan (signed)
The Young World by Chris Weiz
I don't even know where to start! So many awesome books!
Thanks to the girls who organized it all for another great meet up. When I think about how I only met most of them for the first time at least year's meet up and then realize all the things I've done since then (book clubs, going to Toronto for the Ontario blogger meet up, attending author events, and now going to my first BEA this May), I'm so proud of myself for taking a huge leap outside of my comfort zone last year and attending that meet up, where I didn't know anyone. And now I know a bunch of awesome book bloggers who love read and talk about books just as much as I do.
After the meet up I went to see the Divergent movie with friends and had a great time there too! The movie was better than I had expected. It wasn't perfect, but it was fun and exciting, and wow that Four! SWOON!
All in all, it was a great day and now I'm even more excited for BEA (if that's possible)!
Related Posts