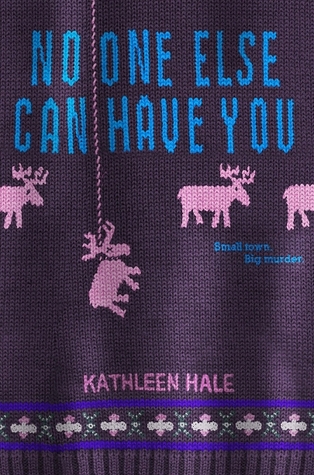 No One Else Can Have You
By Kathleen Hale Source
Received from the publisher via Edelweiss
Published by
HarperTeen
on January 7, 2014
Received from the publisher via Edelweiss in exchange for an honest review. This does not affect my opinion of the book or the content of my review.
Rating:

Cover image and summary from Goodreads:

Small towns are nothing if not friendly. Friendship, Wisconsin (population: 688) is no different. Around here, everyone wears a smile. And no one ever locks their doors. Until, that is, high school sweetheart Ruth Fried is found murdered. Strung up like a scarecrow in the middle of a cornfield.

Unfortunately, Friendship's police are more adept at looking for lost pets than catching killers. So Ruth's best friend, Kippy Bushman, armed with only her tenacious Midwestern spirit and Ruth's secret diary (which Ruth's mother had asked her to read in order to redact any, you know, sex parts), sets out to find the murderer. But in a quiet town like Friendship—where no one is a suspect—anyone could be the killer.
I love a good mystery, and this one started with the gruesome discovery of Ruth Fried's body, strung up with hay stuffed inside her and her mouth sewn shut. Creepy! And I was immediately hooked.
This book was quirky. Kippy, the deceased's best friend, seemed so strange when I started the book that I wasn't sure how if I liked her. The way she spoke, the bizarre eulogy at Ruth's funeral, and the way she sounded like a bit of an outcast made her seem like a bit of a zany oddball. But! I grew to like Kippy a lot. She certainly had a distinct voice, and I think she was a combination of naive and observant and intelligent, and she was pretty funny.
The town of Friendship is strange. I'm a city girl, but I love reading about weird small towns (and they're always weird in books, TV, etc. aren't they??), and the people of Friendship seem pretty odd. The more Kippy learns about them while she tries to uncover the truth behind Ruth's murder, the more she realizes that the person the cops have arrested may not be the culprit, and that the killer could still be out there.
I've checked out a few reviews online, and people seem to either love this or hate this! I think Kippy's voice and the dialogue in the book was really tough for some people to read, because it is a bit strange, but I got used to it and actually saw that as one of the things that made this book stand out from all the others I've read this year.
I really liked the mystery in this story. As Kippy went through Ruth's diary, she realized that there were a lot of things that Ruth didn't tell her, and that she may not have known Ruth as well as she thought. I basically suspected everyone in this book until around halfway through when I thought I had it figured out (I had the right culprit, but not the right motive, so the big reveal was still fun!).
The story took some twists and turns that I didn't see coming, which I always enjoy, and there was some light romance between Kippy and Davey, Ruth's older brother, which was sweet. Overall, this book was by turns creepy, funny, exciting, and sad, with a great mystery and one of the most unique protagonists I've encountered! I really loved it, and would definitely recommend it.