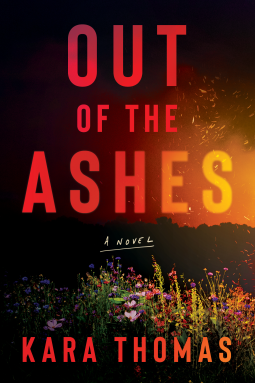 Out Of The Ashes
By Kara Thomas Source
Received from the publisher
Published by
Thomas and Mercer
on May 1, 2023
Received from the publisher in exchange for an honest review. This does not affect my opinion of the book or the content of my review.
Rating:

When she was thirteen years old, Samantha Newsom's family was murdered and their Catskills farmhouse set ablaze in an unsolved crime that left nothing behind but ashes.

Twenty-two years later, Sam is pulled back to her hometown of Carney, New York, under the shadows of the grim tragedy she's never forgotten or forgiven. Authorities mishandled the evidence, false rumors were seeded about her family, suspects yielded nothing, and the case went cold. Not anymore. Investigator Travis Meacham has been assigned to the case, and he has news for Sam: a prison inmate has come forward with a shocking admission. Sam's baby sister, presumed dead in the fire, made it out of the house that night.

It's not the only reveal that upends everything Sam thinks she knows about the crime and her family. But Carney protects its secrets. And this time, Sam might not be able to escape the town alive.
I love Kara Thomas's YA books, so I was really eager to read her adult debut.
I liked the small town setting, and this book is atmospheric. But it was bleak. I think for my taste, at the time, the world and the characters were just too bleak for my enjoyment.
The cold-case mystery surrounding the death of Sam's family and the drama with her remaining relatives was interesting but the slow pacing and Sam's frequent back and forth trips couldn't sustain my interest, and for the relatively short length, it took me a long time to finish reading the book.
Kara Thomas is a really good writer and as I said, I love her YA mysteries and thrillers, but this one wasn't the right book for me.