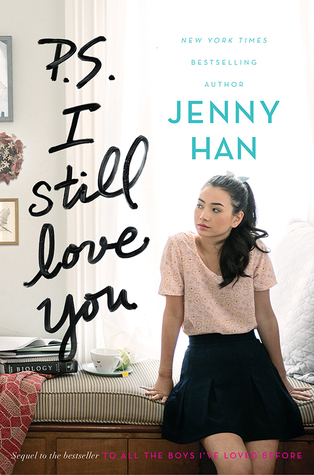 P.S. I Still Love You
By Jenny Han Series:
To All the Boys I've Loved Before #2
Source
Purchased
Published by
Simon & Schuster Books for Young Readers
on May 26, 2015
Rating:

Cover image and summary from Goodreads:

Lara Jean didn't expect to really fall for Peter. She and Peter were just pretending. Except suddenly they weren't. Now Lara Jean is more confused than ever.
When another boy from her past returns to her life, Lara Jean's feelings for him return too. Can a girl be in love with two boys at once?

In this charming and heartfelt sequel to the New York Times bestseller To All the Boys I've Loved Before, we see first love through the eyes of the unforgettable Lara Jean. Love is never easy, but maybe that's part of what makes it so amazing.
This is the sequel to To All the Boys I've Loved Before, which I adored! I was really excited about this sequel, but also kind of nervous.
I shouldn't have been nervous or worried at all! This book, for me, had the same magic as the first. I finished reading with a huge smile on my face. Everything that I loved about the first book – Peter K., Lara Jean and her relationship with her sisters, cookies, humour – was present in this sequel. There were complications for Lara Jean and Peter, and I loved the drama!
I've seen people say that this book isn't as light and fluffy as the first, and I agree, but that's part of what I really liked about it. I feel like there was more maturity here in terms of love and relationships, as Lara Jean and Peter K. had their ups and downs, but it still had the same heart as its predecessor.
I would love to read more about Lara Jean, but since there are no plans (as far as I'm aware) for any more books in this series, I may have to be content to reread this duology. I think if you loved To All the Boys I've Loved Before, you'll be happy with this sequel! So so so recommended.