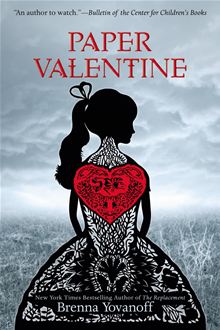 Paper Valentine
By Brenna Yovanoff Source
Library
Published by
Razorbill
on January 8, 2013
Rating:

The city of Ludlow is gripped by the hottest July on record. The asphalt is melting, the birds are dying, petty crime is on the rise, and someone in Hannah Wagnor's peaceful suburban community is killing girls.

For Hannah, the summer is a complicated one. Her best friend Lillian died six months ago, and Hannah just wants her life to go back to normal. But how can things be normal when Lillian's ghost is haunting her bedroom, pushing her to investigate the mysterious string of murders? Hannah's just trying to understand why her friend self-destructed, and where she fits now that Lillian isn't there to save her a place among the social elite. And she must stop thinking about Finny Boone, the big, enigmatic delinquent whose main hobbies seem to include petty larceny and surprising acts of kindness.

With the entire city in a panic, Hannah soon finds herself drawn into a world of ghost girls and horrifying secrets. She realizes that only by confronting the Valentine Killer will she be able move on with her life—and it's up to her to put together the pieces before he strikes again.
I love the cover of this book! I've been looking forward to reading this ever since I first heard about it.
I'm not really sure where to begin with this review, because from the outset of this novel, there was a lot going on: Hannah was being visited by the ghost of her best friend Lillian, who died six months earlier, and a girl's dead body had been discovered in town. I liked that Lillian's presence was something already established, that Hannah was already used to, because it made me feel like the book's world existed outside of the story I was reading.
The dynamic between Lillian and Hannah was interesting to observe. In life, Lillian was the leader of their group of friends. She was beautiful, popular, and powerful. Hannah followed her lead, but in death, Lillian is stuck watching Hannah live out her own life, and doing things and having experiences that Lillian can't.
Another factor in Hannah and Lillian's relationship that the book explores is how Lillian died. She had an eating disorder – anorexia – and eventually it killed her. Hannah seemed to struggle with blaming Lillian for self-destructing, and blaming herself for not saving Lillian. This added a really interesting layer to their friendship and conversations, as it became the elephant in the room.
I really liked the writing in this book. Everything seemed so real and it was like I could feel the sweltering heat overtaking Ludlow. The story took its time, it wasn't rushed, but it didn't drag on either. There was also a deliciously creepy vibe to the novel that I loved.
The romance in this book was enjoyable. Finny was not a popular guy and he definitely wasn't part of Hannah's circle of friends. For a girl like Hannah to be with a guy like Finny was a step down in the eyes of a lot of people. I liked that he was quiet, and that Hannah gradually got to know him, and learned that he wasn't what people thought. The way they understood each other and the way Hannah felt comfortable just being with him, even in silence, was lovely.
The murder mystery was almost a background story at times, what with all that was going on between Hannah and Lillian, and Hannah and Finny, but it was so great. Because young girls were the victims, curfews were established, areas were off-limits, and Hannah's parents didn't want her or her sister out alone anywhere. That definitely gave the story an element of danger and suspense whenever Hannah went anywhere, even out with Finny, because he seemed, at least in the eyes of some people, to be just the kind of guy that would be a suspect: quiet, big, menacing, a loner, in trouble at school. I loved watching Hannah and Lillian try to solve the mystery. It was like one last thing they could do together.
I liked the way the murder mystery unraveled, and while I guessed at who the killer was, I liked the way Hannah pieced some things together and discovered the truth. There was danger and suspense, but I have to say that the book wrapped up too quickly for me, and I found myself wanting (as I always do) to know more about the killer: I really wanted to know why he did what he did, and I didn't come away satisfied in that respect. In fairness, though, this wasn't the killer's story, this was Hannah's story, and I can live with not knowing the 'why' behind his actions. I can guess and theorize, but that will have to do.
I love stories with a paranormal element to them, and this one was definitely right up my alley. If you like a spooky vibe, ghosts, and a little romance thrown in, I recommend this book. I'll definitely be checking out Brenna Yovanoff's other books.