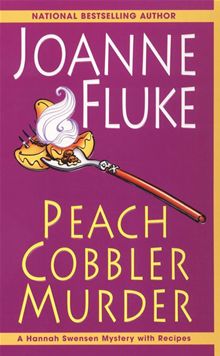 Peach Cobbler Murder
By Joanne Fluke Series:
Hannah Swenson #7
Source
Purchased
Published by
Kensington Publishing Corporation
on February 1, 2006
Rating:

Cover image and synopsis from Goodreads:

Bakery owner and occasional sleuth Hannah Swensen finds herself the prime suspect when Shawna Lee, a co-owner of a rival bakery in Lake Eden, turns up dead.
Wow, another Hannah Swenson mystery! Two in one day! This is the seventh book in the series.
I have really grown to love these books. Even though someone always winds up dead, I think that they make for really fun, light reading that I find myself drawn to after finishing something darker.
I loved that Hannah's romantic rival opened up a bakery right across the road from The Cookie Jar! It was so deliciously diabolical. It also gave Hannah an excellent motive for Shawna Lee's murder, so of course she needed to solve this murder mystery in order to clear her own name!
I think this was one of the better Hannah Swenson mysteries. The fact that a competitor has opened up and is causing some hardships for Hannah and her business partner, Lisa, was an interesting addition to the story. Funny how so many of Hannah's loyal customers swore they were only eating at the Magnolia Blossom Bakery to check out the competition!
The characters in the stories are so well developed by this point, and the love triangle that I've complained about before definitely seems to be heading towards a resolution!
Without giving much away, I think the murder mystery in this one was well done. There were certainly enough suspects, at least at first, that the killer's identity wasn't obvious, and when the motive was revealed, I appreciated it. I think I'm trying to say that the motive made sense, it was interesting, and it was different from other Hannah novels. With this many books in the series, it must be difficult to keep everything feeling fresh, but so far, I think the author has done a really good job of telling so many different stories with these characters.
There is also a good subplot with respect to Winthrop, Delores Swenson's suitor, about whom I had previously expressed some concerns.
As I've said before, if you're like me and you've been working your way through this series, I recommend that you keep going and pick this one up.