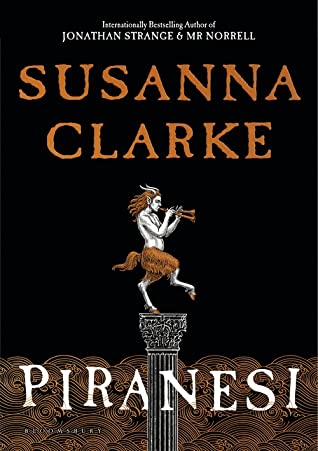 Piranesi
By Susanna Clarke Source
Received from the publisher
Published by
Bloomsbury
on September 15, 2020
Received from the publisher in exchange for an honest review. This does not affect my opinion of the book or the content of my review.
Rating:

Piranesi's house is no ordinary building: its rooms are infinite, its corridors endless, its walls are lined with thousands upon thousands of statues, each one different from all the others. Within the labyrinth of halls an ocean is imprisoned; waves thunder up staircases, rooms are flooded in an instant. But Piranesi is not afraid; he understands the tides as he understands the pattern of the labyrinth itself. He lives to explore the house.

There is one other person in the house—a man called The Other, who visits Piranesi twice a week and asks for help with research into A Great and Secret Knowledge. But as Piranesi explores, evidence emerges of another person, and a terrible truth begins to unravel, revealing a world beyond the one Piranesi has always known.

For readers of Neil Gaiman's The Ocean at the End of the Lane and fans of Madeline Miller's Circe, Piranesi introduces an astonishing new world, an infinite labyrinth, full of startling images and surreal beauty, haunted by the tides and the clouds.
I was so excited to read this book, having heard nothing but great things about it. Everything about it – the cover, the synopsis, the author – appealed to me.
This was a slim book, and once I was about one third of the way in, I didn't want to put it down, but it was not a quick read for me. The writing was so lovely, and I was analyzing everything in an attempt to figure out what was going on, and so even though my ARC was under 300 pages, it took me a few days to finish.
Eventually I had to tell myself to stop trying to solve it and just read and enjoy (I am nearly incapable of reading something with any sort of puzzle or mystery without trying to figure out what is going on – it's hard for me to just read and see what happens!).  Once I did that, I flew through the final section of the story.
Piranesi was a lovely, strange, beautifully written story. Recommended!