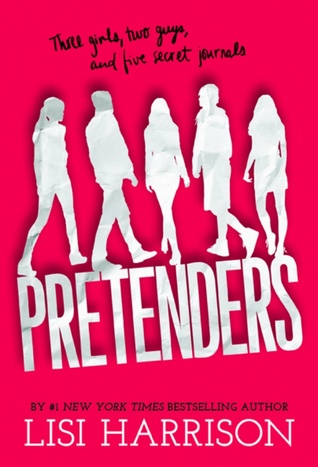 Pretenders
By Lisi Harrison Series:
Pretenders #1
Source
Library
Published by
Poppy
on October 1, 2013
Rating:

From Goodreads:

My picture is on page eighteen of Noble High's Phoenix yearbook. I am one of the Phoenix Five. You nominated me. You thought I was one of the most outstanding students in our freshman class. You were wrong.

Still, I accepted my award. I acted special. But I couldn't help wondering what it was like to be that way for real. So I broke into Ms. Silver's safe in the faculty lounge and stole all five of our journals. I'm not exposing them out of jealousy or anger. I'm doing this because I am tired of the lies. The bar is too high, and cheating is the only way to reach it. Instagrams are filtered, Facebook profiles are embellished, photos are shopped, Manti T'eo's girlfriend was a fake...is anything real anymore?

I found the answer in our journals. These are 100 percent real and 100 percent unedited. The proof is in the pages:

We're all pretenders.
I almost DNF'd this book because it wasn't grabbing me and I have a bunch of other books in my immediate TBR pile to pick up. It's practically impossible for me to start a book and not finish it though, so I slowly worked my way through it.
I was also reading because I was somewhat interested in the mystery of who shared the Phoenix Five's journals, but sadly this book just was not for me, and I am not interested enough in that mystery to read more of this series.
I don't totally know what didn't work for me here. I usually enjoy the fluffy contemporary books that I pick up, but this book did not interest me at all once I started reading it.  Some of this book felt a bit too silly for me maybe, and nothing in this book was resolved. The end was basically a cliffhanger, but instead of making me want to read the next book to find out what happens, I kept thinking of all the other books I picked up from the library that I could have been reading instead.
I struggled to like or care about most of the characters. I did like Lily, the formerly homeschooled girl attending public school for the first time, but the other characters fell flat and I just thought some of them were unlikeable.
Unfortunately, while I went into this book thinking I'd really like it, I didn't care for it at all.