By Sara Shepard
Source: Purchased
My Rating: 3 / 5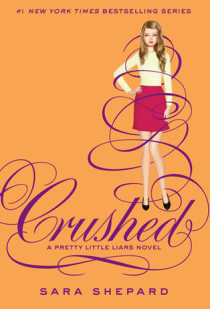 This is the 13th (!) book in the series, following Burned. I was really looking forward to this book (see my Waiting on Wednesday and Top Ten Tuesday posts about it!) so no surprise that I finished it as quickly as I could.

Here is the summary from Goodreads:
It's springtime in suburban Rosewood, which means iced soy lattes, fresh manicures in shimmering pastels—and prom. But while everyone else is flipping through the racks at Saks in search of the perfect dress, Hanna, Spencer, Emily, and Aria are on a different kind of hunt: They're looking for A. . . .

Hanna puts her campaign for prom queen on the back burner to volunteer at the burn clinic, where one of A's victims is recovering. Emily digs into Ali's past at the mental hospital with some very crazy consequences. Spencer contacts a private eye to help her stalk her stalker. But when their sessions get a little too private, they may forget to keep their eyes on A. . . . And Aria's worried that A is even closer than she thought. When her dark secret from Iceland finally comes to light, she discovers that maybe, just maybe, the one person she's been trying to hide the truth from has known all along.

The liars are finally taking the fight to A. But no matter what they do, A's always one step ahead, ready to crush the girls completely.
Spoiler alert!
I don't even know where to begin with this review. These books are really fun, for me at least, but they're also really predictable and definitely follow a formula. At this point, I think I'm only keeping up with the series to (eventually) find out who A is.
So the girls' main suspect this time around is Noel. Well obviously Noel is not A. I knew that so reading page after page of their suspicions and all of these things about Noel being uncovered that made them think he was involved was a bit frustrating, since I knew he's just this book's red herring.
However, I loved that the girls were finally being proactive, banding together to make a list of suspects, making rules like using burner phones and trying to make sure their conversations couldn't be overheard.  And they finally picked up on the fact that A is likely two people this time around, something I've suspected for a while now.
At this point, I have no idea who this 'A team' is. Kate, Iris, Mike, undead Mona or Ali or Courtney or someone's parents…I just wouldn't put anything past Sara Shepard at this point. But I am eager to see how she's going to wrap this series up in a way that will make sense when looking back at everything. It will have to explain how someone(s) could be everywhere the girls were, even when they were separated, like Jamaica/Tabitha, the cruise, Aria and Hanna in Iceland, etc. How were these people everywhere at all times, able to see and hear everything the girls said and did, but remain unnoticed??? I'm dying to see how Shepard pulls this off.
You know, even though this series is dragging on and, in my opinion, needs to come to an end, I totally can't help myself: I love this series, I read each book as soon as it comes out, and I love Spencer, Hanna, Aria, and Emily. I like seeing how they've changed over the series. Even thinking about them getting ready to move on from high school makes me nostalgic for the very beginning of the series! And I really want them to put this A business behind them before they graduate from high school.
I thought the next book, coming out in December, was going to be the final book, but according to this Goodreads interview, Shepard is planning to end the series at 16 books. Oh boy!
This series is totally a guilty pleasure of mine (except I guess I don't feel too guilty about loving them) and even while I rolled my eyes, I loved reading this book. Obviously I'll be reading the next one (and the next and the next…).