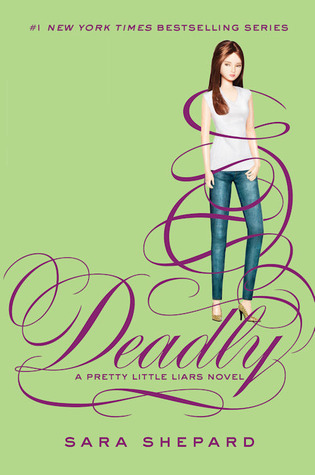 Deadly
By Sara Shepard Series:
Pretty Little Liars #14
Source
Purchased
Published by
HarperTeen
on December 3, 2013
Rating:

From Goodreads:

Deadly, the fourteenth volume in Sara Shepard's YA Pretty Little Liars series, delivers more juicy scandals, dark secrets, and shocking plot twists. This #1 New York Times bestselling series is also a hit ABC Family original TV show.

High school seniors Aria, Emily, Hanna, and Spencer have all done horrible things—things that would put them behind bars if anyone ever found out. And their stalker "A" knows everything.

So far A has kept their secrets, using them to torture the girls. But now A's changed the game. Suddenly the girls are hauled in for questioning, and all their worlds begin to unravel. If A's plan succeeds, Rosewood's pretty little liars will be locked away for good. . . .
Spoiler alert!
Wow this is book number 14 in the series! I read book 13, Crushed, not long ago and wrote about how the books were totally predictable and formulaic, yet I continued to read and enjoy them.
Well, I think this book did a pretty good job of shaking things up a bit and answering some questions I've been asking for a while. For example, the girls finally come clean to the cops and a few friends/family members and seemed to be getting some help, and we got confirmation of the identity of A's 'helper', which actually took me by surprise!
Things were going well for the girls in the first half of the book – too well, it turns out. I loved the twist that they ended up being accused of murdering Tabitha and even arrested and about to be extradited to Jamaica! I wasn't expecting any of that. Also, they finally came face to face again with…Ali! And she is totally deranged. But it was so satisfying to have them finally see for sure that she was still alive – even if no one else believed them.
I really think this was the best book in the series in a long time, and it had me reading as fast as I possible could, excited to see how it would end. I know there will only be two more books, and that the next one, Toxic, will come out in June.
I have no clue how Sara Shepard will wrap up the series, but with this book, she answered some of the big questions I had, and she has definitely set the stage for an epic showdown. All I can do is wait until the last book comes out and hope for a definitive ending! If it's open-ended or leaves any question as to Ali's fate, I think I'll be frustrated, but I'm trying to prepare myself for any and every possibility!
If you're still reading this series, I hope you enjoyed this installment as much as I did!