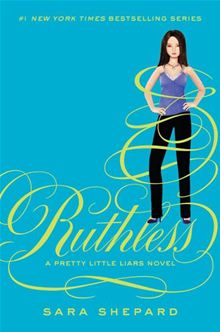 Ruthless
By Sara Shepard Series:
Pretty Little Liars #10
Source
Purchased
Published by
HarperTeen
on December 6, 2011
Rating:

For years scandal has rocked Rosewood, Pennsylvania - and high school seniors Aria, Emily, Hanna, and Spencer have always been at the center of the drama. They've lost friends, been targeted by a ruthless stalker named A, and narrowly escaped death. And it's not over yet.

Aria's love life is on the fritz. Emily's exploring her wild side. Hanna's kissing the enemy. And someone from Spencer's past - someone she never thought she'd see again - is back to haunt her.

But none of that compares to what happened last spring break. It's their darkest secret yet, and guess who found out? Now A is determined to make them pay for their crime, and the only thing scarier than A is the fear that maybe, just maybe, they deserve what's coming to them.
I didn't think this book was being released until December, so I was very excited to purchase it today!
This book is the tenth in the series, and picks up shortly after the end of Twisted. Aria, Hanna, Emily, and Spencer are still distant from each other, and each one is having serious issues: Hanna gets caught up romantically with someone who may end up being her dad's political enemy; Emily experiments with being wild and care free, and then has to deal with the consequences; Spencer is confronted with someone from her past, and has to face up to her own bad behaviour; and Aria's love life is in shambles.
I love the way the author keeps me always guessing about what will happen next in this series, and I was so excited to get to the end that I read the whole book in one day.
As in every other book in this series, the girls are all receiving threatening messages from someone named 'A', who seems to know all of their secrets. And boy, have these girls been up to some bad things that they don't want anyone else to know about! It was really interesting to see how, now that they're older and preparing to move on from  high school, their bad deeds have become riskier, with darker, dangerous consequences. I like the slightly more grown up ground that is covered here.
Of course, it isn't too grown up. There is still plenty of bitchy gossip, boy trouble, and family drama. The book sticks with the formula that has worked very well so far, so if you enjoyed the rest of the series, you'll like this book. It's a must read if you're a Pretty Little Liars fan! Now if only I didn't have to wait until next summer for another installment!