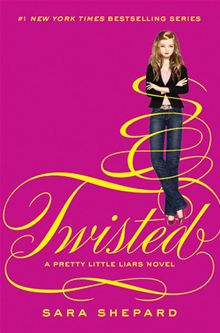 Twisted
By Sara Shepard Series:
Pretty Little Liars #9
Source
Purchased
Published by
HarperTeen
on July 5, 2011
Rating:

It's been a year since the torturous notes from A stopped and the mystery of Alison DiLaurentis's disappearance was finally put to rest. Now seniors in high school, Aria, Spencer, Hanna, and Emily are older, but they're not any wiser. The pretty little liars have more secrets than ever - twisted secrets that could destroy the perfect lives they've worked so hard to rebuild.

Aria's jealous of her boyfriend's new exchange student. Spencer's getting a little too cozy with her soon-to-be-stepbrother. Hanna's one scandalous photo away from ruining her dad's Senate campaign. And Emily will do anything to get a swim scholarship.

Worst of all: Last spring break in Jamaica, they did something unforgivable. The girls are desperate to forget that fateful night, but they should know better than anyone that all secrets wash ashore... eventually.
I have been eagerly anticipating this book's release for the Kobo! (Sara Shepard is also the author of a new series, The Lying Game, with the second book in that series, Never Have I Ever, due out next month.)
This is the ninth book in the Pretty Little Liars series by Sara Shepard. I read the first eight books lasy summer, and just loved them.
I remember describing the series to someone as the movie Mean Girls + murder mystery in book format! Of course, that's a rather simplified description, but I was trying to quickly explain that the series is about a group of four high school girls (Spencer, Hanna, Emily, and Aria) and the mysterious death of their best friend and ring-leader, Alison ("Ali").
Over the course of the series, through various flashbacks, we begin to learn that, while everyone adored Ali, in reality, she had a lot of secrets, and was not a very nice person. The four girls begin to receive text messages and notes from someone calling him/herself 'A' – messages that demonstrate that the sender knows each girl's dark secrets, things that they thought only Ali could know.
There are numerous plot twists and turns, and without giving anything away, I really believed that, when the eighth book ended, that was it for the series. All had been revealed and it seemed as though everything was nicely resolved and wrapped up. So imagine my surprise and excitement to learn that this book was being written!
This book picks up about a year after the previous one, Wanted, ends. Something has happened to tear the four girls' friendship apart, and parts of that mystery are slowly revealed. However, as there is a tenth book coming out in December, I expect that more of that aspect will be revealed in the next book.
Once again, the girls begin to receive messages from someone calling him/herself 'A', who begins messing with their lives and threatening to reveal their secrets, which could have very damaging effects on their lives, as they've all got something to lose: Spencer has been accepted to an Ivy League school; Aria is still dating Noel Kahn; Hanna's father is running for State Senator; and Emily is after a swimming scholarship to university.
I loved this book, as I loved all eight before it! Sure, some of the characters (particularly the males) are one-dimensional; sure, there are moments where I caught myself thinking, 'Why are you doing x when you should so obviously be doing y!?', but for me, that's part of the appeal of this series. I can just turn off my brain and get lost in the fun of the story. Reading about rich high school girls who are being stalked by someone out to expose their secrets is pretty fun! And in all honesty, the mystery part of this series is always done well. I had no idea who 'A' was in any of the other books, and I have no idea who 'A' is now. I love that the author doesn't reveal that secret until well into the series – so I'm hoping that there will be more books following the tenth one out in December, prolonging the mystery!
I also really like the main characters: Spencer is super smart and works very hard; Aria is the artsy, free-spirited one who doesn't get caught up in what others think of the way she dresses, the music she listens to, etc.; Emily is the athlete who wants to please everyone; and Hanna – perhaps my favourite (or maybe tied with Spencer) – is the pretty, popular socialite. Of course, you'll have to read the rest of the series to learn more about these girls! But I think the author has developed the characters very well throughout the series, and I genuinely like them all and care about what happens to them. As with the previous books, I couldn't put this one down once I started reading.
If you're looking for a fun yet engrossing read, I definitely recommend that you pick up the first book in this series, Pretty Little Liars, work your way through the next eight books, and enjoy!