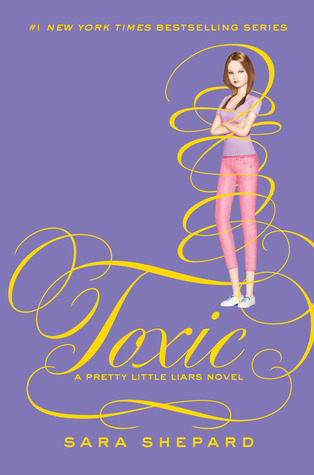 Toxic
By Sara Shepard Series:
Pretty Little Liars #15
Source
Purchased
Published by
HarperTeen
on June 3, 2014
Rating:

Cover image and summary from Goodreads:

One A has been captured…but the most dangerous A of all is still out there in the penultimate installment in Sara Shepard's #1 New York Times bestselling Pretty Little Liars series.

High school seniors Aria, Emily, Spencer, and Hanna barely survived their most recent encounter with A. And it's not over yet…. The police don't believe there's another, deadlier, A out there, but the girls know what-and who-they saw. If they don't track down this final tormentor soon, A will silence them forever.

Sara Shepard's fan base continues to grow as ABC Family's hit Pretty Little Liars TV show draws in new readers to the #1 New York Times bestselling series. Full of unexpected twists and shocking revelations, the second-to-last novel ramps up the stakes for the jaw-dropping series conclusion in Pretty Little Liars #16.
I can't believe this is the 15th book in the series! Spoiler alert: if, for some reason, you are reading this review but haven't kept up with the books in this series, yet do not want to be spoiled, you should stop reading now. There will be spoilers here!
I must say, when I reviewed the previous book, Deadly, I said that I thought it was one of the better recent books in the series. I was hoping that would continue with this book, but unfortunately, it was a return to ridiculous behaviour that had me rolling my eyes, and a total lack of help for any of the girls from their families and the authorities.
This book was so frustrating. The girls are attacked, people die, and no one takes them seriously! Honestly, after Emily was attacked by Ali in the pool, I thought to myself, 'Now we're getting somewhere'. The cops had to help, right? Nope! No real investigation takes place, Emily tells them she was attacked by Ali (who is believed dead by everyone but Emily, Hanna, Aria, and Spencer), and of course no one believes her. But then Emily doesn't even tell her parents that she was attacked when they ask her about the bruises! Ugh, I don't know, there were so many moments like that that had me feeling frustrated with the girls, but also with the people around them.
I love that Ali is definitely alive, but I've got no clue how she's carrying out her plan. Of course I'm going to keep reading the rest of the series – I've come this far, and there is apparently only one book left – but this book was a bit of a let down following Deadly. However, if you're like me and you've managed to stick with the series, why not carry on and read Toxic!