By Amy Tintera
Source: Borrowed
My Rating: 3.5 / 5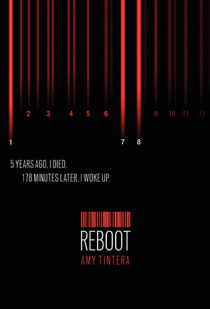 I've had my eye on this book for a while because I really liked the premise. Here is the Goodreads summary:
Five years ago, Wren Connolly was shot three times in the chest. After 178 minutes she came back as a Reboot: stronger, faster, able to heal, and less emotional. The longer Reboots are dead, the less human they are when they return. Wren 178 is the deadliest Reboot in the Republic of Texas. Now seventeen years old, she serves as a soldier for HARC (Human Advancement and Repopulation Corporation).

Wren's favorite part of the job is training new Reboots, but her latest newbie is the worst she's ever seen. As a 22, Callum Reyes is practically human. His reflexes are too slow, he's always asking questions, and his ever-present smile is freaking her out. Yet there's something about him she can't ignore. When Callum refuses to follow an order, Wren is given one last chance to get him in line—or she'll have to eliminate him. Wren has never disobeyed before and knows if she does, she'll be eliminated, too. But she has also never felt as alive as she does around Callum.

The perfect soldier is done taking orders.
I really liked this book at the start because of the way we're introduced to Wren and the Reboots. I loved the action scenes, and the one near the beginning of the book helped set the tone: the world is a mess, full of violence and illness, and Wren is basically a soldier doing a job.
When Wren meets Callum, he is so different from her and she can't understand him. He's too human but she feels drawn to him and ends up as his trainer. I really liked these scenes because I felt that they gave me more insight into Wren and her past. The relationship that develops between Callum and Wren was sweet. I kind of didn't like Callum at first, to be honest – I just wanted him to listen to Wren's instructions and follow the rules! – but the way he is able to open Wren's eyes and have her question things was really well done. He didn't try to force anything on her but he did try and stay true to his beliefs of right versus wrong, and that got her thinking, maybe seeing things differently.
I also loved that there was no love triangle! And Wren's roommate was one of my favourite characters. Some of the others, though, were pretty flat and undeveloped (like the head of the HARC corporation or the human leader of Wren's Reboot complex), but I hope that that will change in future books. I like my villains to be a bit more complex.
I loved that the author was not afraid to kill off characters. I mean, it was sad, but when it works for the story, I'm all for it.
Unfortunately despite the great start, the book sort of dragged in the middle and towards the end. I felt like I could see where the plot was headed and just wanted it to get there faster. There were some really good scenes between Callum and Wren though, and the end definitely set things up for another book.
I didn't fall in love with this book but it kept me entertained during a train ride and I'm definitely looking forward to reading what happens next.