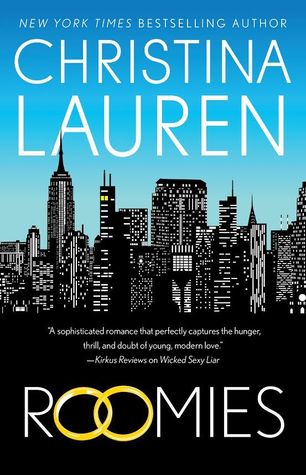 Roomies
By Christina Lauren Source
Purchased
Published by
Gallery Books
on December 5, 2017
Rating:

Marriages of convenience are so…inconvenient.

Rescued by Calvin McLoughlin from a would-be subway attacker, Holland Bakker pays the brilliant musician back by pulling some of her errand-girl strings and getting him an audition with a big-time musical director. When the tryout goes better than even Holland could have imagined, Calvin is set for a great entry into Broadway—until he admits his student visa has expired and he's in the country illegally.

Holland impulsively offers to wed the Irishman to keep him in New York, her growing infatuation a secret only to him. As their relationship evolves from awkward roommates to besotted lovers, Calvin becomes the darling of Broadway. In the middle of the theatrics and the acting-not-acting, what will it take for Holland and Calvin to realise that they both stopped pretending a long time ago?
This is by the authors of Dating You / Hating You, which I really enjoyed (Christina Lauren is two authors). I'd heard very good things about this book, so I picked it up when I was in the mood for something light and fun.
This was a very cute, fun read. I was pulled into the story pretty quickly, and I really liked reading about the Broadway musical and the behind the scenes aspect.
Holland had a pretty privileged life in some ways, but it became pretty clear that she was dissatisfied with other aspects of her life. I loved seeing her sort out what she wanted and go after it in the end View Spoiler » – although seeing her get published in the New Yorker on her first submission was a little tough to buy! « Hide Spoiler.
The romance was sweet and didn't blow up quite the way I expected View Spoiler » (I thought Brian would let it slip somehow that the marriage was fake, so Calvin could stay in the country) « Hide Spoiler, so I liked that it was kind of unpredictable.
I was a little dissatisfied with the subplot involving Holland's friendship with Lulu. I feel like I wasn't given enough of their friendship for it to matter to me when things between them started to fall apart.
Overall, while I think Dating You / Hating You is my favourite Christina Lauren book, Roomies was very fun! And I will be checking out more of their books in the future!