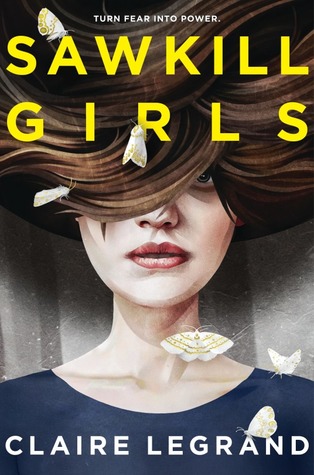 Sawkill Girls
By Claire Legrand Source
Received from the publisher
Published by
Katherine Tegen Books
on October 2, 2018
Received from the publisher in exchange for an honest review. This does not affect my opinion of the book or the content of my review.
Rating:

Beware of the woods and the dark, dank deep.

He'll follow you home, and he won't let you sleep.

Who are the Sawkill Girls?

Marion: the new girl. Awkward and plain, steady and dependable. Weighed down by tragedy and hungry for love she's sure she'll never find.

Zoey: the pariah. Luckless and lonely, hurting but hiding it. Aching with grief and dreaming of vanished girls. Maybe she's broken—or maybe everyone else is.

Val: the queen bee. Gorgeous and privileged, ruthless and regal. Words like silk and eyes like knives, a heart made of secrets and a mouth full of lies.

Their stories come together on the island of Sawkill Rock, where gleaming horses graze in rolling pastures and cold waves crash against black cliffs. Where kids whisper the legend of an insidious monster at parties and around campfires.

Where girls have been disappearing for decades, stolen away by a ravenous evil no one has dared to fight… until now.
I was so excited to read this book that I couldn't wait until closer to the release date. I read it almost as soon as I received the eARC!
I loved the story. It was way creepier than I was expecting, which was such a pleasant surprise. And I loved that it was about the three girls (Marion, Zoe, and Val) and their relationships.
Honestly I can't put it better than the author said herself on Goodreads:

That description is pretty spot-on and captures everything I loved about the book. It's about girls, their anger, their dreams, their ferocity, their struggles with things that hold them back, and a really creepy monster. I didn't realize until I was reading Sawkill Girls that I had been waiting for a book like this to come along!
One thing that description doesn't mention that I really enjoyed was that the book does not shy away from violence. It may leave something to the imagination but the way Claire Legrand wrote about the violence done to some of the characters without always putting the actual event on the page made it creepier (which, for me, is a good thing!).
This is a standalone, but I would love to read more about this world, with its monsters and girls who fight them. Potential spoiler: View Spoiler » I also kind of got a Buffy vibe by the end, with the notion of girls giving their bodies and lives at the orders of men who assume that they know best and have authority (it reminded me of the male-dominated Watcher's Council and female slayers). « Hide Spoiler
There were a couple of instances where the story faltered for me, and that was mostly when it moved away from the girls. Spoiler: View Spoiler » The Hand of Light and Zoe's father's storylines kind of didn't work for me. On one hand I felt like I wanted to know more, but on the other hand, whenever they were part of the story, I was impatient to get back to The Collector and Zoe, Marion, and Val. « Hide Spoiler
Overall this was super interesting, really creepy, and so good. Recommended!
Buy a copy for yourself: