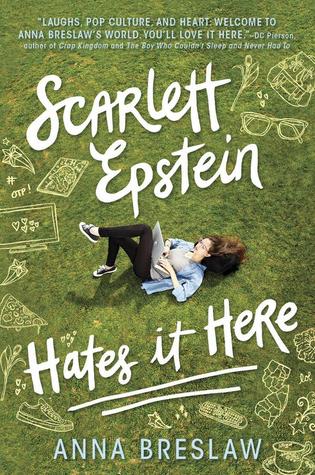 Scarlett Epstein Hates It Here
By Anna Breslaw Source
Received from the publisher
Published by
Razorbill
on April 19, 2016
Received from the publisher in exchange for an honest review. This does not affect my opinion of the book or the content of my review.
Rating:

Cover image and summary from Goodreads:

Meet Scarlett Epstein, BNF (Big Name Fan) in her online community of fanfiction writers, world-class nobody at Melville High. Her best (read: only) IRL friends are Avery, a painfully shy and annoyingly attractive bookworm, and Ruth, her pot-smoking, possibly insane seventy-three-year-old neighbor.

When Scarlett's beloved TV show is canceled and her longtime crush, Gideon, is sucked out of her orbit and into the dark and distant world of Populars, Scarlett turns to the fanfic message boards for comfort. This time, though, her subjects aren't the swoon-worthy stars of her fave series—they're the real-life kids from her high school. Scarlett never considers what might happen if they were to find out what she truly thinks about them...until a dramatic series of events exposes a very different reality than Scarlett's stories, forever transforming her approach to relationships—both online and off.
This was one of my most-anticipated books this spring. It sounded like a really fun book about fandom, which it was, but it turned out to be so much more.
Scarlett Epstein Hates It Here was really funny. Scarlett is so wonderfully snarky! And I loved that the book was about fandom but without mocking fandom and fans. Sure, it had fun with it and there was definitely some humour that came out of it, but the book showed that people find a sense of belonging in fandoms.
It's also a pretty great look at friendship, family relationships, and fitting in vs. standing out. Friendships change and sometimes they don't last. Sometimes we're wrong about people. This is definitely the kind of book I wish I'd read when I was in high school.
What more can I say? I loved this book! The writing, the humour, the story, Scarlett – it's all great! Definitely a recommended read!
Buy a copy for yourself!