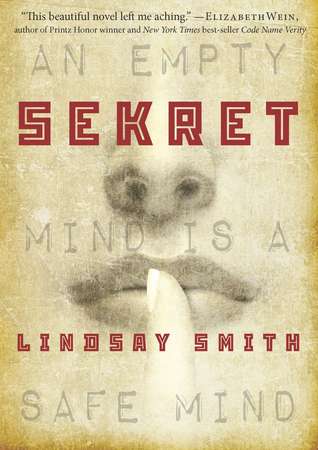 Sekret
By Lindsay Smith Series:
Sekret #1
Source
Received from the publisher
Published by
MacMillan
on April 1, 2014
Received from the publisher in exchange for an honest review. This does not affect my opinion of the book or the content of my review.
Rating:

Cover image and summary from Goodreads:

An empty mind is a safe mind.

Yulia's father always taught her to hide her thoughts and control her emotions to survive the harsh realities of Soviet Russia. But when she's captured by the KGB and forced to work as a psychic spy with a mission to undermine the U.S. space program, she's thrust into a world of suspicion, deceit, and horrifying power. Yulia quickly realizes she can trust no one--not her KGB superiors or the other operatives vying for her attention--and must rely on her own wits and skills to survive in this world where no SEKRET can stay hidden for long.
Minor spoilers!
I'd been looking forward to reading this book for a while. The premise was intriguing. I love spy stories, and with the science fiction element thrown in, combined with the setting, I knew I had to read this one!
Right away, I was drawn into Yulia's story. I loved the setting, and the way it influenced the story. I liked reading about history of Russia throughout this book, but it never felt dry, and was done in a way that incorporated the history into the story.
The science fiction element was so fun. Not only does Yulia have certain abilities, but she encounters others her age who possess psychic abilities too. The combination of espionage and psychic abilities was fun and interesting. At the same time, the KGB is keeping Yulia against her will and threatens her family's safety as a way to keep her compliant. She struggled a lot with working for the KGB, knowing it could keep her family safe, but feeling like a prisoner at the same time. It was an interesting aspect of the story, because some of the teens (Misha and Masha) felt that they were doing good work, while others reconciled the work they were doing with what they received in exchange (hockey loving Sergei was rewarded with time on the ice for his cooperation). Yulia never forgot that she was working against her will and kept looking for a way out.
There was some romance in the book, but I would hesitate to say that there was a love triangle. It seemed to me that while there were two guys who liked Yulia, she really only had feelings for one of them from the start. And I liked him! (I won't say who, for spoiler reasons, but I think it's pretty clear once you start reading)
I also liked the subplot with Yulia's family. Everything she was doing was because she was trying to keep them safe, but she learns some pretty major secrets about them by the end of the book, which has me excited to read the next in the series. I had a lot of fun reading this book and definitely recommend it.