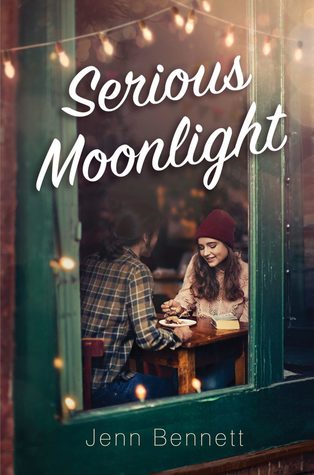 Serious Moonlight
By Jenn Bennett Source
Library
Published by
Simon Pulse
on April 16, 2019
Rating:

After an awkward first encounter, Birdie and Daniel are forced to work together in a Seattle hotel where a famous author leads a mysterious and secluded life in this romantic contemporary novel from the author of Alex, Approximately.

Mystery-book aficionado Birdie Lindberg has an overactive imagination. Raised in isolation and homeschooled by strict grandparents, she's cultivated a whimsical fantasy life in which she plays the heroic detective and every stranger is a suspect. But her solitary world expands when she takes a job the summer before college, working the graveyard shift at a historic Seattle hotel.

In her new job, Birdie hopes to blossom from introverted dreamer to brave pioneer, and gregarious Daniel Aoki volunteers to be her guide. The hotel's charismatic young van driver shares the same nocturnal shift and patronizes the waterfront Moonlight Diner where she waits for the early morning ferry after work. Daniel also shares her appetite for intrigue, and he's stumbled upon a real-life mystery: a famous reclusive writer—never before seen in public—might be secretly meeting someone at the hotel.

To uncover the writer's puzzling identity, Birdie must come out of her shell…discovering that the most confounding mystery of all may be her growing feelings for the elusive riddle that is Daniel.
This was a random selection from the library, and I ended up really liking it!
This was a contemporary romance with a little mystery thrown in, and some good banter between Birdie and Daniel. I really liked them, and I enjoyed their relationship developing slowly, although at times Birdie came across as wishy-washy about what she wanted and it frustrated me. But their honesty with each other was very refreshing to read about.
The mystery didn't go the way I expected it to, and it was more of a secondary plot by the end, with Birdie and Daniel's relationship as the main focus.
I loved the setting, and Birdie and Daniel's relationships with their families. They were complicated, and Birdie and Daniel both had hardships in their past that they slowly revealed to each other (and the reader).
I'm so pleased that I ended up enjoying this book as much as I did! Now I need to look into Jenn Bennett's other books.