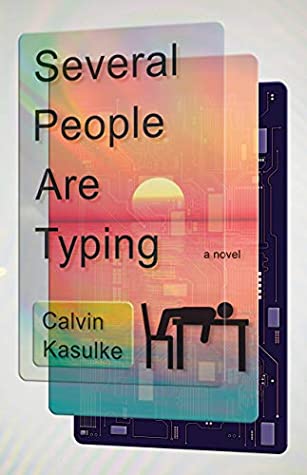 Several People Are Typing
By Calvin Kasulke Source
Purchased
Published by
Doubleday
on August 31, 2021
Rating:

A work-from-home comedy where WFH meets WTF.

Told entirely through clever and captivating Slack messages, this irresistible, relatable satire of both virtual work and contemporary life is The Office for a new world.

Gerald, a mid-level employee of a New York–based public relations firm has been uploaded into the company's internal Slack channels—at least his consciousness has. His colleagues assume it's an elaborate gag to exploit the new work-from home policy, but now that Gerald's productivity is through the roof, his bosses are only too happy to let him work from . . . wherever he says he is.

Faced with the looming abyss of a disembodied life online, Gerald enlists his co-worker Pradeep to help him escape, and to find out what happened to his body. But the longer Gerald stays in the void, the more alluring and absurd his reality becomes.

Meanwhile, Gerald's colleagues have PR catastrophes of their own to handle in the real world. Their biggest client, a high-end dog food company, is in the midst of recalling a bad batch of food that's allegedly poisoning Pomeranians nationwide. And their CEO suspects someone is sabotaging his office furniture. And if Gerald gets to work from home all the time, why can't everyone? Is true love possible between two people, when one is just a line of text in an app? And what in the hell does the :dusty-stick: emoji mean?

In a time when office paranoia and politics have followed us home, Calvin Kasulke is here to capture the surprising, absurd, and fully-relatable factors attacking our collective sanity…and give us hope that we can still find a human connection.
If the concept of this book's narrator becoming disembodied and trapped within his company's Slack doesn't grab you and convince you to read this one, I'm not sure what will! But as soon as I read the synopsis, I wanted to get a copy and read it!
This book was a very quick read, told solely in the form of Slack messages. It was so funny and, despite the absurdity of its premise, given the current state of the world and the increase in work-from-home arrangements and reliance on communication based around Slack, Zoom, and Teams, it was at times all too relatable.
This was a great change of pace from some of my heavier, darker reading and if you're looking for a quick, fun read I highly recommend it!