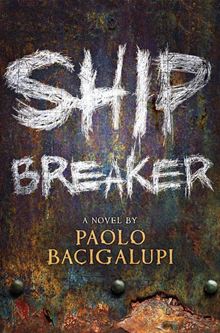 Ship Breaker
By Paolo Bacigalupi Series:
Ship Breaker #1
Source
Purchased
Published by
Little
,
Brown Books for Young Readers
on May 1, 2010
Rating:

In America's Gulf Coast region, where grounded oil tankers are being broken down for parts, Nailer, a teenage boy, works the light crew, scavenging for copper wiring just to make quota--and hopefully live to see another day. But when, by luck or chance, he discovers an exquisite clipper ship beached during a recent hurricane, Nailer faces the most important decision of his life: Strip the ship for all it's worth or rescue its lone survivor, a beautiful and wealthy girl who could lead him to a better life...
This book had been sitting in my Kobo library for some time. I kept telling myself I would read it eventually, but never really got around to it. Finally, last month I started to read it, only to stop after two pages. I don't know why, but I put it down and sort of forgot to come back to it.
Eventually, though, I did come back to it and I'm glad I did, because I liked it a lot.
I've read Bacigalupi's The Windup Girl, and while I enjoyed parts of it, I didn't love it. However, I found this book to be much more accessible and engaging.
The story begins by giving us a look at Nailer's life and job as a ship breaker, stripping copper wiring (ship breakers strip everything that can be reused, and it's then bought by large companies). It's tough work, and it doesn't take long before Nailer encounters a life and death situation on the job, falling into a pool of oil inside a ship. I loved this scene – it was tense and showed Nailer's resolve. He knew if he could stay calm, he had a chance to get out. I don't know that I'd be that calm! While he's trapped, he has an encounter with a member of his crew, who weighs the the chances of Nailer surviving and ratting her out for her failure to help him against the likelihood of his drowning. This single scene, early in the book, shows so much of the world that Nailer lives in and the dangers he faces just trying to survive day to day.
Things seem to look up for Nailer when a terrible storm destroys the beach and while out with his friend Pima, he discovers a beached clipper ship. There, he finds Nita, the only person to survive the shipwreck. He and Pima quickly surmise that she's wealthier beyond what they could imagine, and debate whether or not to save her or scavenge anything of value they can find.
I'll stop summarizing there and get to what I liked about this book. I liked how quickly the story moved, and I also liked that Bacigalupi didn't shy away from violence, especially after demonstrating so early on that the world Nailer lives in is a harsh one. I liked that the world in this book is grim, but not that farfetched: the physical landscape has changed due to global warming, and Earth's natural resources are disappearing.
Nailer faces a lot of difficult decisions throughout the book, and I liked that he was conflicted. The characters were not  clear-cut 'good' or 'bad'.  I really like when an author can flip my ideas or expectations of a character in a way that works for the story. Even Nailer's father, who is a drug user and abusive, was given more characterisation than 'the bad guy'. Sure, he was terrifying, but Nailer hinted at good memories of his father, before Nailer's mother died, and in each of Nailer's encounters with his father, there is somehow something humanizing about him.
There is a companion book (not sure if it's a sequel) called The Drowned Cities, which I will definitely be adding to my TBR.
Verdict: I liked this book a lot, and recommend it. Don't take as long to read it as I did!