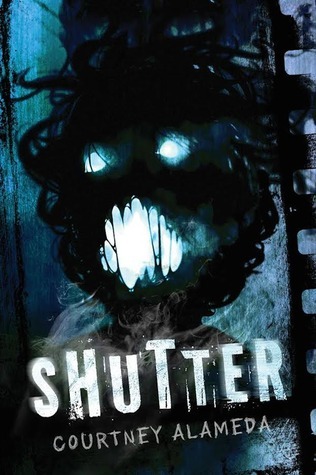 Shutter
By Courtney Alameda Source
Received from the publisher
Published by
Feiwel and Friends
on February 3, 2015
Received from the publisher in exchange for an honest review. This does not affect my opinion of the book or the content of my review.
Rating:

Cover image and summary from Goodreads:

Horror has a new name: introducing Courtney Alameda.

Micheline Helsing is a tetrachromat—a girl who sees the auras of the undead in a prismatic spectrum. As one of the last descendants of the Van Helsing lineage, she has trained since childhood to destroy monsters both corporeal and spiritual: the corporeal undead go down by the bullet, the spiritual undead by the lens. With an analog SLR camera as her best weapon, Micheline exorcises ghosts by capturing their spiritual energy on film. She's aided by her crew: Oliver, a techno-whiz and the boy who developed her camera's technology; Jude, who can predict death; and Ryder, the boy Micheline has known and loved forever.

When a routine ghost hunt goes awry, Micheline and the boys are infected with a curse known as a soulchain. As the ghostly chains spread through their bodies, Micheline learns that if she doesn't exorcise her entity in seven days or less, she and her friends will die. Now pursued as a renegade agent by her monster-hunting father, Leonard Helsing, she must track and destroy an entity more powerful than anything she's faced before . . . or die trying.

Lock, stock, and lens, she's in for one hell of a week.
As soon as I read this book's summary, I knew it was going to be my kind of book (basically anything that sounds like it could be an episode of Supernatural is my kind of book!). I'm very happy to say that I was not disappointed. I loved this book!
I really enjoyed that Micheline was a descendant of Van Helsing – the way that background was incorporated into the story, and the fact that the public in the story was aware of the existence of ghosts and other supernatural creatures, was a lot of fun.
There were some really great creepy scenes in this book! I really liked the classification of the various supernatural creatures for Van Helsing's training and hunting purposes. Also, the role that Micheline's camera and photography played in the book was really cool. I won't lie, some of it went a bit over my head, but I really enjoyed it, in part because it was something different from what I've read before, which was very refreshing.
At times, I found the pacing a bit slow. The story felt like it dragged a bit at times, but maybe that's because I loved the action scenes so much that I couldn't wait to read the next one! Also, the ending felt a bit rushed. I would have liked to spend more time reading about Micheline's surroundings and predicament (I don't want to spoil the end) than I got to.
I like the characters: Micheline was sassy, tough, and grieving the loss of her mother and brothers while dealing with her complicated relationship with her father. And I loved reading about her team: her friends Jude and Oliver and her sort of off limits love interest Ryder. I loved the bond between the four of them.
I would love to read another story set in this world! If you are a fan of supernatural/paranormal YA fiction, Shutter is one you should check out!