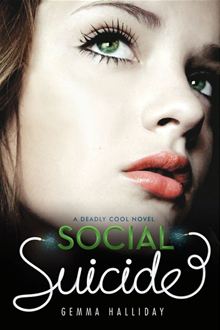 Social Suicide
By Gemma Halliday Series:
Deadly Cool #2
Source
Purchased
Published by
HarperTeen
on April 24, 2012
Rating:

Twittercide: the killing of one human being by another while the victim is in the act of tweeting.

Call me crazy, but I figured writing for the Herbert Hoover High Homepage would be a pretty sweet gig. Pad the resume for college applications, get a first look at the gossip column, spend some time ogling the paper's brooding bad-boy editor, Chase Erikson. But on my first big story, things went . . . a little south. What should have been a normal interview with Sydney Sanders turned into me discovering the homecoming queen–hopeful dead in her pool. Electrocuted while Tweeting. Now, in addition to developing a reputation as HHH's resident body finder, I'm stuck trying to prove that Sydney's death wasn't suicide.

I'm starting to long for the days when my biggest worry was whether the cafeteria was serving pizza sticks or Tuesday Tacos. . . .
I read the previous book, Deadly Cool, last year and enjoyed it. Hartley was a good narrator and I liked the mystery. I borrowed this sequel from the library sometime last year but never actually read it before it was due back, so I had to return it, unread. I borrowed it again this week, determined to read it this time!
I liked this book. Harley once more discovers the dead body of a classmate, Sydney, who had recently been suspended for cheating on a test. The suspension meant that Sydney, considered a lock-in for homecoming queen, was no longer eligible. While everyone else – police, students – thinks she killed herself, Hartley thinks that  Sydney was killed, and she intends to investigate and figure out who the killer is.
Once again, Hartley was a great narrator. She's funny and snarky, and her reaction to her mom's venture into the world of online dating was hilarious. Hartley is not sure where things stand with Chase, the editor of the school paper who helped her out in Deadly Cool. He hired her to work on the paper- but is there anything more between them? Hartley is definitely interested, but there are a couple of embarrassing moments where she misreads or misinterprets Chase's word or actions, and although I felt bad for Hartley, it was pretty funny.
The mystery, once revealed, was no big shocker, but Hartley's investigation was entertaining even if I thought I knew who the real killer was. Her investigative skills have improved since Deadly Cool, and I loved the way the investigation uncovered some secrets that people would rather not have shared with Hartley, ranging from kissing your best friend's boyfriend to buying test answers. There was a lot more to Sydney's death than there appeared at first!
This was a fun and funny book with a good mystery, and I will be looking forward to another book in this series!