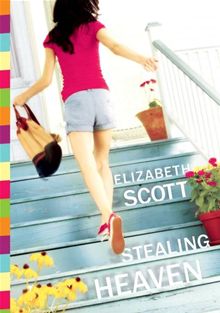 Stealing Heaven
By Elizabeth Scott Source
Purchased
Published by
HarperTeen
on May 27, 2008
Rating:

My name is Danielle. I'm eighteen. I've been stealing things for as long as I can remember.

Dani has been trained as a thief by the best--her mother. Together, they move from town to town, targeting wealthy homes and making a living by stealing antique silver. They never stay in one place long enough to make real connections, real friends--a real life.

In the beach town of Heaven, though, everything changes. For the first time, Dani starts to feel at home. She's making friends and has even met a guy. But these people can never know the real Dani--because of who she is. When it turns out that her new friend lives in the house they've targeted for their next job and the cute guy is a cop, Dani must question where her loyalties lie: with the life she's always known--or the one she's always wanted.
The title of this book always makes me think of the song 'Nearer Than Heaven' by The Delays. Really good song, totally unrelated to this book.
I was initially drawn to this book because I liked the cover art. I'm glad I purchased it because I really liked this book. It was a quick read – I read it in one day – but that could just be because I didn't want to put it down!
Dani and her mom move from town to town, and Dani has never had real friends or been to school. Her mother has taught her everything she knows, preparing her for a life of staking out homes, stealing silver, and moving on without being noticed. She is used to blending in, staying in the background.
When they get to the small town of Heaven, things change. She meets Allison, a girl from a rich family who, despite Dani's assumptions, is nice and seems to want to get to know Dani and be friends – a first for Dani. And she meets Greg, a cute, funny guy who makes her blush – and who turns out to be a cop.
For the first time, Dani starts to question what her mother has taught her, and keeps her new friendships a secret. When it turns out that Allison's family home is the next target, she struggles to understand what she really wants: the life she has always known with her mother, or putting down roots and having real friends.
Dani was a great character. She was cynical, funny, smart – for an eighteen year old, she'd already led a difficult life, so I understood her cynicism. Her relationship with Greg, the cop she seems to run into no matter where she goes, develops slowly and was believable.I often find myself rolling my eyes at relationships in novels, but this one was believable – Dani struggled with pushing Greg away to keep her and her mother safe, and following her heart and pursuing a relationship with him.
Dani's relationship with her mom was interesting. She owes her mom everything – she's raised her and taken care of her for eighteen years – but as Dani begins to question what she really wants, their relationship becomes strained. Her mom can't understand why Dani would want a different life. It's clear they love each other, but it was not a typical mother-daughter relationship. It made me sad for Dani at times.
Even though a book about a mother-daughter combo of silver thieves may not sound like it, the story and characters were very believable, and it was one of those books where I found it easy to lose myself in the story.
I don't want to reveal anything about the ending, other than to say that I was happy with the way things turned out for Dani. For the first time, she makes her own decisions, rather than following her mother's instructions. She becomes an independent adult, able to identify what she wants rather than living out the life her mother wants. I think it's a very important transformation for a YA novel.
I definitely recommend this book!