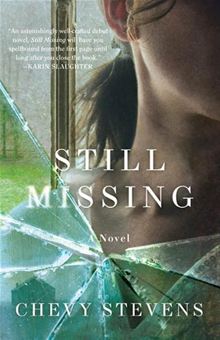 Still Missing
By Chevy Stevens Source
Purchased
Published by
St. Martin's Press
on July 6, 2010
Rating:

On the day she was abducted, Annie O'Sullivan, a 32-year-old realtor, had three goals—sell a house, forget about a recent argument with her mother, and be on time for dinner with her ever-patient boyfriend. The open house is slow, but when her last visitor pulls up in a van as she's about to leave, Annie thinks it just might be her lucky day after all.

Still Missing interweaves the year Annie spent as the captive of a psychopath in a remote mountain cabin, which unfold through sessions with her psychiatrist, with a second narrative following the events after her escape—her struggle to piece her shattered life back together and the ongoing police investigation into the identity of her captor.

Still Missing is a shocking, visceral, brutal and beautifully crafted novel.
This book has been on my TBR list for some time.
This book was so difficult to put down! I read it so quickly, wanting to find out about Annie's abduction and then how she managed to get away (which she clearly does, as the novel is told in partial flashbacks as she recounts her experience to her psychiatrist).
One day, while showing an open house, a man shows up as Annie's preparing to go home. Despite wanting to turn him away and leave for the day, she begins to show him the house. He abducts her and takes her to a cabin, where she is held captive and made to endure terrible things. After her escape, she works with the police to sort out her kidnapper's identity.
The things Annie experiences and endures are awful and difficult to read at times. I don't want to give away much about the plot, because there were things that surprised me which I don't think should be spoiled, but I think that despite the difficult subject matter, this was a good book.
The balance between past and present is so well done, and the way things unravel throughout the story, leading to the final 'wow', was something that, looking back on, was great. Yes, it's a dark book, but I thought it was so interesting to see how, over time, Annie began to see glimpses of, as she puts it, the man her captor could have been. He was not portrayed as a one-dimensional monster, although that's how Annie sees him at first, and he definitely is not a good guy.
The way Annie examines her life in the aftermath of her escape is interesting. All the things she thought about her life before her abduction – how great her relationships were with her boyfriend and best friend, for example – are questioned once she tries to return to her life. Not only does she have to try to cope with everything that's happened to her, but there is also a media frenzy surrounding her, with people trying to take photos, buy movie rights to her life story, etc. It all seems so awful and overwhelming, but Annie does make steps towards moving on.
Reading the book, I just felt so bad for Annie. So many awful things happened to her, and somehow, in the end, she is able to take back control of her own life. Overall, despite the dark subject matter, I got really into this book and would recommend it.