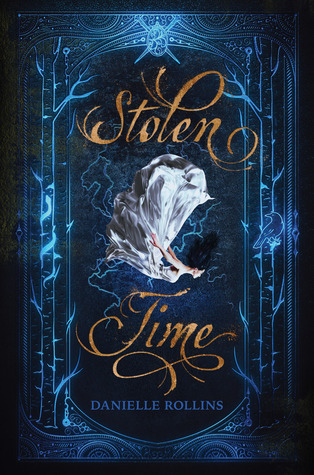 Stolen Time
By Danielle Rollins Series:
Dark Stars #1
Source
Received from the publisher
Published by
HarperTeen
on February 5, 2019
Received from the publisher in exchange for an honest review. This does not affect my opinion of the book or the content of my review.
Rating:

Seattle, 1913 // Dorothy is trapped. Forced into an engagement to a wealthy man just so she and her mother can live comfortably for the rest of their days, she'll do anything to escape. Including sneaking away from her wedding and bolting into the woods to disappear.

New Seattle, 2077 // Ash is on a mission. Rescue the professor—his mentor who figured out the secret to time travel—so together they can put things right in their devastated city. But searching for one man means endless jumps through time with no guarantee of success.

When Dorothy collides with Ash, she sees it as her chance to start fresh—she'll stow away in his plane and begin a new life wherever they land. Then she wakes up in a future that's been ripped apart by earthquakes and floods; where vicious gangs rule the submerged city streets and a small group of intrepid travelers from across time are fighting against the odds to return things to normal. What Dorothy doesn't know is that she could hold the key to unraveling the past—and her arrival may spell Ash's ultimate destruction.
Danielle Rollins also writes under the name Danielle Vega, and I've enjoyed lots of her books, so I was looking forward to reading Stolen Time, especially because I enjoy time travel stories.
I really liked this book! It took me a little while to really get into it, but once I did, I couldn't put it down. I loved the time travel element to this story, and I liked the way it was explained partly via the characters, and partly via the professor's journal.
I liked the characters, especially Dorothy. She was feisty and tough, despite the restrictions placed on her by her time period. For a story about a time traveling team, though, I felt like I didn't get to learn enough about the other characters on the team, compared to Ash and Dorothy, which made it more difficult to feel any real connection or emotional attachment to them. But I also thought that the romantic tension between her and Ash was really well done, and I loved the way everything came together in the end. I'm so eager to read the next book! This ending was such an exciting cliffhanger!
I really enjoyed Stolen Time. It was a great YA time travel story, so if that's your thing, you've got to read this!