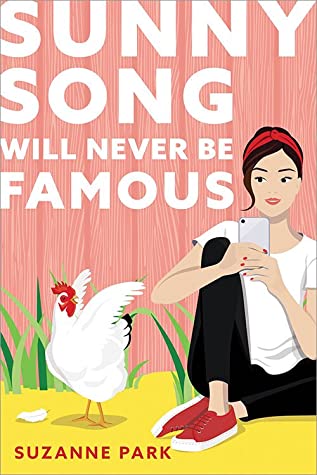 Sunny Song Will Never Be Famous
By Suzanne Park Source
Received from the publisher
Published by
Sourcebooks Fire
Received from the publisher in exchange for an honest review. This does not affect my opinion of the book or the content of my review.
Rating:

Sunny Song's Big Summer Goals:
1) Make Rafael Kim my boyfriend (finally!)
2) Hit 100K followers (almost there…)
3) Have the best last summer of high school ever

Not on Sunny's list: accidentally filming a PG-13 cooking video that goes viral (#browniegate). Extremely not on her list: being shipped off to a digital detox farm camp in Iowa (IOWA??) for a whole month. She's traded in her WiFi connection for a butter churn, and if she wants any shot at growing her social media platform this summer, she'll need to find a way back online.

But between some unexpected friendships and an alarmingly cute farm boy, Sunny might be surprised by the connections she makes when she's forced to disconnect
This was a cute, fun read and was just the right book for the mood I was in when I read it back in March.
I really liked the idea of the detox camp for technology/social media/devices, but I also liked that Sunny came to understand what she got out of social media and that it wasn't all unhealthy. There were a lot of fun subplots (the romance, the older campers who needed Sunny's tech expertise, Sunny making new friends and discovering she had a nemesis) that kept things interesting and the story moving along.
Things wrapped up a little too quickly and perfectly, but overall this was a fun read and Sunny was funny and snarky and I liked her so much (and I am still laughing about #browniegate). This book was just what I needed to read at the right time.