By Gretchen McNeil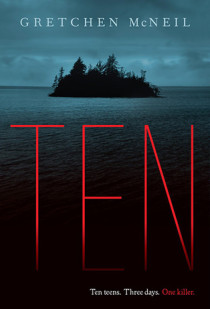 Source: Library
My Rating: 3 / 5
I heard that this was a YA murder mystery in the spirit of Agatha Christie's And Then There Were None, and I was immediately intrigued! Here is the Goodreads summary:
SHHHH!
Don't spread the word!
Three-day weekend. Party at White Rock House on Henry Island.
You do NOT want to miss it.

It was supposed to be the weekend of their lives—an exclusive house party on Henry Island. Best friends Meg and Minnie each have their reasons for being there (which involve T.J., the school's most eligible bachelor) and look forward to three glorious days of boys, booze and fun-filled luxury.

But what they expect is definitely not what they get, and what starts out as fun turns dark and twisted after the discovery of a DVD with a sinister message: Vengeance is mine.

Suddenly people are dying, and with a storm raging, the teens are cut off from the outside world. No electricity, no phones, no internet, and a ferry that isn't scheduled to return for two days. As the deaths become more violent and the teens turn on each other, can Meg find the killer before more people die? Or is the killer closer to her than she could ever imagine?
This was a pretty face-paced read, and I read the bulk of it in one sitting. Meg and her best friend, Minnie, are on their way to popular Jessica's house on Henry Island for a party. Meg is not really friends with Jessica, but you don't turn down an invitation from one of the most popular girls in school. Right away, the reader is informed that Meg and Minnie's friendship is a bit rocky, and it seems Minnie is looking forward to this weekend a lot more than Meg is, and the issues between the girls come into play throughout the story.
I loved the atmosphere of the story and the setting. It seemed just right for a murder mystery/thriller: spooky, stormy, dark, and isolated. I also liked that the story didn't take long to get creepy, with the discovery of a DVD that contains a message about vengeance.
However, I felt that the majority of the characters weren't that well-developed. Maybe there was no need, since most of them end up dead, but I would have liked to have gotten to know them a bit first so that I actually felt something when they died.
As for the killer's identity, I was genuinely surprised. I definitely didn't predict it, which I liked. However, the story did strain believability at times. Now, I can buy a far-out-there premise, sci-fi, fantasy, whatever, but this book is not like that. It was going for realism but factoring in the means, timing, and planning that would have been required to carry out the murders as the killer planned did seem like a bit of a stretch, to me. Not really a big deal, but something I thought back on after I finished the book.

SPOILER – Skip this paragraph if you don't want to know more about the killer! The killer's identity (scroll over with cursor to find out:Ben                                                                  ) surprised me, as did his connection to the other people on the island. He believed he was avenging his sister, who felt so mistreated in some way or another by the others on the island throughout her life that she killed herself. The killer had planted his sister's journal where Meg found it, and reading it, I felt bad that she was treated badly by the group on the island, but I wish the motive had been better explored. Reading the girl's diary was good for giving the reader some insight into who she was and how she felt, but I would have liked more of it. If her death was the catalyst for all of this murdering, I would have liked to know her a bit more. However, as I said above, most of the other characters who were actually present on the island weren't developed either, so I shouldn't be too surprised. END OF SPOILERS.
Despite my gripes, I did stay up late to finish reading this book, and it was an entertaining thriller. I wasn't particularly attached to any of the characters, but I had to know who was behind it all!