By Jack Croxall
Source: E-book received from author
My Rating: 4 / 5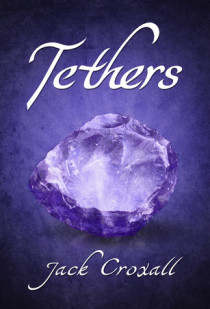 I was intrigued by the book's premise, as the book comes across as a YA historical fiction mystery of sorts, which really appealed to me!
Here is the Goodreads summary:
In the wake of a cold Victorian winter, Karl Scheffer and Esther Emerson discover an anonymous journal filled with strange passages and bizarre scribblings.

The journal soon draws them into a covert and sinister conspiracy, a conspiracy centred around an otherworldly artefact with the power to change everything …

Karl and Esther have spent almost every day of their thirteen years in the quiet market town of Shraye. Stifled by their rural surroundings and frustrated by their unfulfilled ambitions, they find the allure of the journal's mysterious pages impossible to ignore. The book seems to be beckoning them away from Shraye, away from their homes and towards the coast where an unsolved disappearance has set in motion a dark chain of events.

The voyage the teenagers soon find themselves undertaking is one of desperate importance and true peril; it will change the way they see the world, and each other, forever.
Overall, I enjoyed this book. I was instantly drawn in by the setting and the rapport between Karl and Esther, and as the mystery surrounding the journal started to unfold, I was intrigued.
The story moved along fairly quickly, with new characters introduced who shed more light on the journal Karl and Esther had discovered. However, I did feel at times that these other characters were a bit flat. They didn't seem as well-developed as Karl and Esther (or perhaps I just wasn't as interested in them as I was in Karl and Esther!).
I loved Esther's feisty attitude, which was a great contrast with Karl's more cautious demeanor. Their friendship carried the book, and it was refreshing to read a YA story about a boy and a girl who were just friends (for now…?). Honestly, Esther was my favourite part of this book and I would love to read more about her!
The fantasy element (the mystery of the journal and the artefact that falls into Karl's hands) blends really well with the historical aspect of the book. I was reminded of Libba Bray's Gemma Doyle series (a favourite of mine) in that regard: the two elements of the story worked very well together, rather than competing with each other. There was a lovely balance to this book.
I also enjoyed the adventurousness of this book. Between the boats and the sword-fighting, it really felt like Karl and Esther had been swept up in a grand adventure, and it was pretty fun. Again, it was a nice change from some of my recent reads!
I'm definitely interested in reading the sequel, for more of Karl and Esther's story. The Tethers paperback should be out in North America sometime in the fall, and if you're a fan of historical YA fiction, I definitely recommend this book.
And be on the look out for my interview with author Jack Croxall tomorrow!