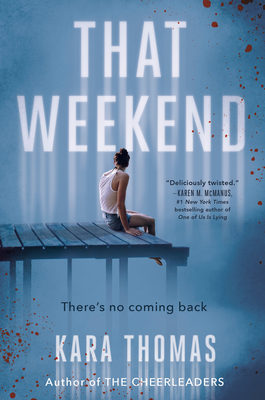 That Weekend
By Kara Thomas Source
Received from the publisher
Published by
Delacorte Press
on June 29, 2021
Received from the publisher in exchange for an honest review. This does not affect my opinion of the book or the content of my review.
Rating:

Three best friends, a lake house, a secret trip - what could go wrong?

It was supposed to be the perfect prom weekend getaway. But it's clear something terrible happened when Claire wakes up alone and bloodied on a hiking trail with no memory of the past forty-eight hours.

Three went up the mountain, but only one came back.

Now everyone wants answers - most of all, Claire. She remembers Friday night, but after that... nothing. And now Kat and Jesse - her best friends - are missing.

That weekend changes everything.

What happened on the mountain? And where are Kat and Jesse? Claire knows the answers are buried somewhere in her memory, but as she's learning, everyone has secrets - even her best friends. And she's pretty sure she's not going to like what she remembers.
I enjoy Kara Thomas's books so I was definitely looking forward to this one, which sounded like a good YA mystery!
While That Weekend isn't up there with my favourite of her books (Little Monsters), this was a good, twisty read. The story started out really strong for me, and I quite enjoyed trying to unravel the mystery and that this took some unexpected twists.
This one just didn't grab me more, I think because I liked the plot but didn't connect to the characters, but it was a fun read.