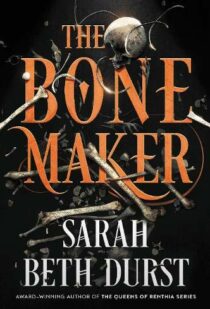 The Bone Maker
By Sarah Beth Durst Source
Purchased
Published by
Harper Voyager
on March 9, 2021
Twenty-five years ago, five heroes risked their lives to defeat the bone maker Eklor—a corrupt magician who created an inhuman army using animal bones. But victory came at a tragic price. Only four of the heroes survived.

Since then, Kreya, the group's leader, has exiled herself to a remote tower and devoted herself to one purpose: resurrecting her dead husband. But such a task requires both a cache of human bones and a sacrifice—for each day he lives, she will live one less.

She'd rather live one year with her husband than a hundred without him, but using human bones for magic is illegal in Vos. The dead are burned—as are any bone workers who violate the law. Yet Kreya knows where she can find the bones she needs: the battlefield where her husband and countless others lost their lives.

But defying the laws of the land exposes a terrible possibility. Maybe the dead don't rest in peace after all.

Five warriors—one broken, one gone soft, one pursuing a simple life, one stuck in the past, and one who should be dead. Their story should have been finished. But evil doesn't stop just because someone once said, "the end."
I purchased The Bone Maker when I was treating myself to some new books as a birthday gift to myself earlier this year. The cover and the synopsis pulled me in, and I was excited to read an adult fantasy by a new-to-me author (although I have some other books by Sarah Beth Durst on my TBR).
This was a really intriguing fantasy that felt fresh and different, and it surprised me quite a few times. Just when I thought characters were backed into a corner or that things were hopeless, the characters would find a way out of a tricky situation in a way that I didn't anticipate. I also really liked the magic system, and the different ways that bones were used. It felt inventive and different than other fantasy worlds and magic systems I've read about.
I loved how so much it was such an adventure, initially. There were some really exciting action scenes that were so fun to read! But by comparison, the last third or so felt so slow and almost boring by comparison, and as much as I enjoyed the book initially, it was a little bit of a struggle to finish.
But overall, this was a really fun and interesting read. Recommended!